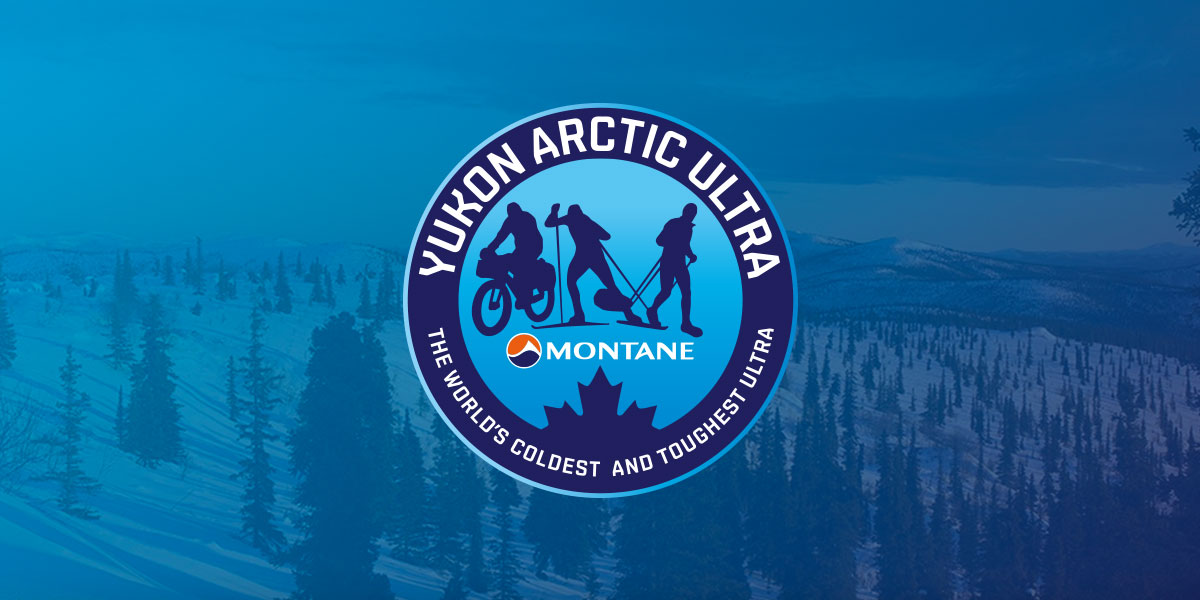 The 11th edition of the Yukon Arctic Ultra is history. Once again the Yukon has shown us everything it has in store. From warm temperatures down to – 40 ° degrees, ice and open water, sun, snow, northern lights and endless wilderness. It was a great race and I want to thank all athletes who came to test their limits.
I also want to thank the entire support crew: Gary & Josh, Glenn & Spencer for the endless hours on their ski-doos and the effort to always be there when needed, the volunteers, staff and checkpoint crew Jessica & Mike, Debra, Marta & Graham, Bernard, Laure-Anne & Anaïs, Nic, Mei, Libby and Diane.  All you guys have once again created the atmosphere for the athletes which makes the YAU different and special. Thank you for that and for putting up with long days and lack of sleep. I hope to see you all back!
A special thanks also goes to Don from Scuttlebutt Lodge (still thinking about that Pizza!), the Kruse family and Pelly Farm for opening your homes to us and supporting the YAU year after year. Thank you Takhini Transport and Takhini Hot Springs for helping us out in a very uncomplicated way with our start change. And thank you to all our sponsors and supporters – locally and internationally.
Last but not least, thank you to Matthew from Trackleaders.com for getting on a plane and spending a lot of time and money to get the SPOT units to us in time. It was much appreciated and I know that people back home really enjoyed following everyone online.
It seems the YAU every year is a bit different. In 2014 for the first time trail conditions due to unseasonably warm weather meant we had to change the start line. Rather than starting at Shipyard's Park in Whitehorse, we went to Takhini Hot Springs. The entire team there and the Cafe Balzam were great hosts and it worked out just fine. Of course it is a bit less fun to do an out and back but if the alternative is to go for a swim in the Yukon River, there is really not much choice. And I got the feeling that everybody had a good time nonetheless. And how many marathoners can walk straight from the  finish line into hot springs?
Apart from some soft spots it also became obvious that the trail is hard and that we would have a pretty fast race. We saw some very good marathon times, Stefano Gregoretti from Italy being the overall finisher with 3 h 35 min.  Kristin Daniel took first place in the women's category with a time of 4 h 12 min.
One of the great surprises of this race was the fact that we had no athlete scratch at Dog Grave Lake. Normally we have to make several trips to get exhausted or injured athletes out of there. So, my congratulations to all athletes for making it safely to Braeburn through this remote part of our race course.
After some very warm days leading up to the start we also all felt that temperatures would change. Even on day 1 it was amazing how much colder it was just those few kilometers out of town.
Paul Trebilock had great time on his bike. For him conditions could not have been better. He flew down the trail and arrived at a time that will be hard to beat in future years. Second came local athlete Karl McEwan who litereally sprinted to the finish line, overtaking Simon Donato and placing 2nd overall and 1st on foot. Simon was on xc-skis and placed 3rd overall. Apart from being 3rd it was a great achievement to finish the 100 miles on his first try. So far all 100 mile xc-skiers needed to come back for unfinished business. Maren Kraft from Germany was the first woman to arrive in Braeburn. She had entered the race with her husband Mike as team True Love. And they really must love each other because we do not get too many teams reaching the finish line togeter. Let alone couples 😉
Only one 100 mile athlete did not reach Braeburn. David Bohn had problems with his water bladder and decided not to risk anything. David was going strong and physically he would have had no problem to get there. So, we all hope to see him come back.
For the 300 miles things were looking good, too. Unfortunately, Daniele Modolo from Italy had to scratch after the marathon distance and his fellow countryman Davide Ugolini who was in the lead at the time had to stop in Braeburn due to injury. Everybody else left Braeburn Lodge in good spirits, trying to reach Carmacks before the 4 days and 12 hours cut-off.
Whilst the first 100 miles went really well for all athletes on the way to Pelly, the trail to Carmacks took its toll. Ali Bajway, Linda Pomeroy, Jorgen Thorsted, Stefan Zahlten and Tim Wilks had to scratch. Very bad blisters, back problems and other sports injuries were some of the reasons. All these athletes still enjoyed the challenge and it looks like we will see them back for another try.
Pietro Trabucchi and Gebriela Monti from Italy did reach Carmacks. However, it was just over an hour after the deadline. I felt bad about it but did re-enforce the rule as I think any other decision would be unfair to athletes who had the same problem in past years. Both were very understaning and appreciated the offer to continue unranked one stage further down the trail.
At that point in time Johnny from Denmark was already pretty close to the 300 mile finish. Even though we had to hold him in McCabe for safety reasons, he won the race and set a new record. 2nd came another Dane, Torben Jensen. He had demonstrated great determination as for a long time already he was on the move with shin splints. Rank 3 went to Brian Bell from Ireland who not only entertained us with his stories and funny race slogans ("It's further than you think …") but also was in great shape when he finished. A strong candidate for our 430 miles … James Binks and Robert Hodges came in 4th place. To see James Binks age 69 and Robert Hodges age 62 finish the YAU 300 miles was very inspirational to all of us. It actually seemed that James and Robert got better and better with every mile. Awesome achievement! Next time somebody tells me he or she is too old for something I will have story to tell them.
Next to finish were Eliot Caton and John Greenslade. John had been in pain for quite a while with some very bad blisters on his toes and swollen feet. The latter likely due to dehydration. But John had gotten this far and was not going to stop. This also meant that they were able to finish as team Eliot Edward Endurance. Possibly they are the only team ever to manage this. I still need to check my records in order to confirm.
Pietro and Gabriela also reached the 300 mile finish. They left out the Carmacks to McCabe stage but I have no doubt they would have been able to go all the way. And to proof it we will likely see them back next year, too.
To me one of the highlights was once again Pelly Farm. It's always been a magic place with incredibly nice people. When I am there, see the athletes come in and how they are welcomed I feel a great sense of happiness. It's like a therapy from the stress of every day life and you learn again what should matter in life: family, friends, a culture of hospitality and to have time for all these things. Thank you Sue and Dale for this lesson. And to make things even better Pelly Farm switched on the Northern Lights for all of us. What a great way to end the YAU 2014.
I still need to finalise the results table. Bare with me.
As for next year's YAU, it should open for entries soon because the Quest set their start date already. I wish all the athletes a quick recovery and many more adventures in 2014.