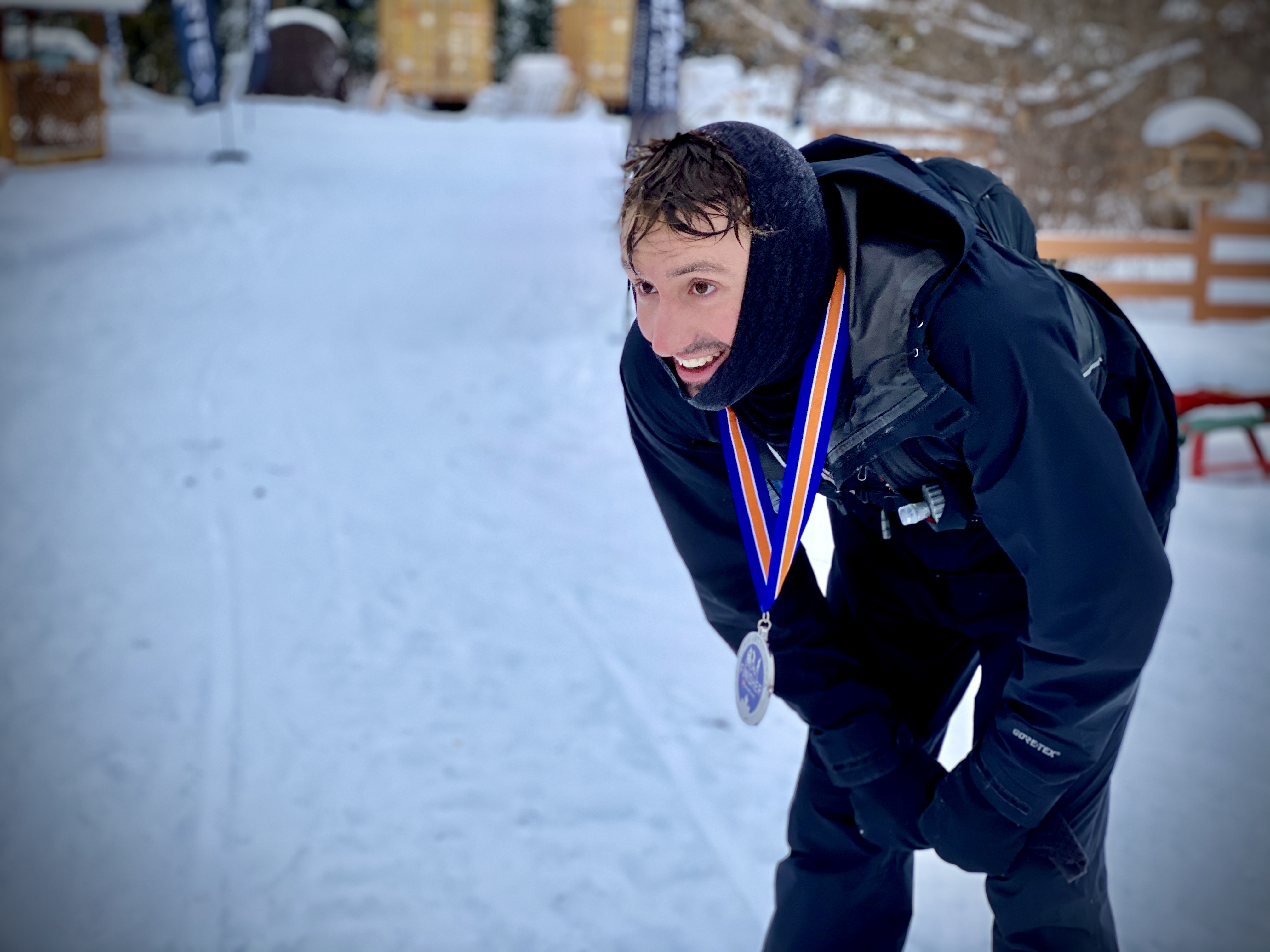 Almost in time, at 10:32 this morning, the Montane Yukon Arctic Ultra started at Shipyard's Park in Whitehorse. Before everybody left, I had some good news. The amount of really soft trail was less than expected. The athletes still had to face soft trails but not to the extent we anticipated. Also, the trails that Gary Rusnak from our crew put in to avoid large sections of overflow, were still passable. At about – 10 degrees C temperatures were also rather mild. So, it's no big surprise that all participants were eager to get going and had big smiles on their faces. The good mood continued on down the trail.
Our marathoners normally have to do an "out and back" at the end of their race of 5 km, i.e. 10 km total. However, after about 3 km of this stretch of trail new overflow had appeared over night. The decision was made to turn the runners around at that point. That means that it was not quite the marathon distance today but I would say almost all runners were rather happy with the change. Congratulations to all finishers!
The fastest runner today was local Brian Stuart. It took him 03:49 to reach Muktuk Adventures. With a time of 03:56 Josh Kramer from Guelph/Canada took 2nd place. The 3rd rank went to Andrew Miller from Pembroke/Canada. For the full results please see our results table.
Currently in the lead for the 100 miles is biker John Berryman from Whitehorse. Not much longer and he will reach our remote checkpoint Dog Grave Lake. Next up is Kevin Leahy from Ireland who is in the foot category.
Since Tiberiu's SPOT tracker has not updated for a little while it is hard to say if he still is the leading 300 miler. Fabian Imfeld from Switzerland may have overtaken him.
Unfortunately, two athletes have had to end their races. Lucile Barbaudy from France was not feeling 100% confident. Her body created more heat than it should have. At first sight this may seem like a good thing but it can of course also be an indicator that something is wrong. She is already back in Whitehorse. Just like Andy Gregory who has had mechanical issues with his bike.
Everybody else has been in a good mood and looking forward to first night out in the Yukon wilderness.
Often that first night results in numerous "help" messages. With slightly milder temperatures maybe we are lucky and they will all continue. I keep my fingers crossed.
The crew has done a great job on a very busy day! Thank you all. And thank you Muktuk Adventures for allowing us to be here. This is such a unique place. I am typing these lines in the main building in the living room. All around me are retired sled dogs who I am sure are wondering why on earth there are all these people out there and they pull the pulks themselves.