The Shelley Spirit of the Yukon Award
On July 13th, 2021 we lost Shelley Gellatly, one of the pillars the MYAU was built on.
Shelley was part of our family pretty much from day 1. She competed many times and from the beginning she did everything she could to help this race. Shelley gave advice to anyone who asked for it. She helped with and later organised MYAU training courses. If she was not racing herself she would be there to support. No matter what time of day or how far the drive, Shelley would do it and she also liked to be there to see others finish. She got to know some of her best friends through the MYAU and she often said that it had a great influence on her life. I believe I can speak on behalf of all who got to know her in saying that she has had a great influence on us, too. I said it in a post I wrote a short time after her death, you do not often meet people who give and do not expect anything in return. Shelley was one of those people. She liked to be there for others, share her experience and to be part of it all. Shelley also had a competitive side. She trained hard and as an athlete always wanted to finish. But she also took care of others and she learned that a DNF is part of the experience and it does not make much sense to dwell on it. You learn, improve and try again next time.
Overall, Shelley Gellatly has shown us all what the "Spirit of the Yukon" is and why we love this place and this race. Therefore, I want to create the Shelley Spirit of the Yukon Award – to remember her and her values and to honour athletes or crew members who demonstrate the same kind of attitude, because to me this is what matters the most. Yes, it's normal that athletes want to win or place well, there is nothing wrong with that, but I think what inspires us is when athletes or crew show this special kind of dedication and give their all for someone else to be safe or for the event to be a success, regardless of what it means for them personally.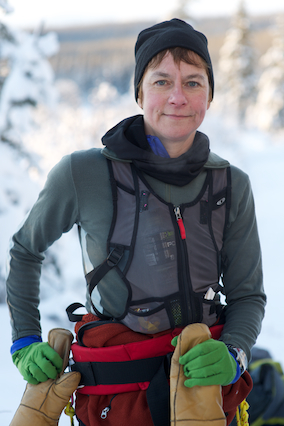 There is no prize for the Shelley Gellatly Spirit of the Yukon award, just like there is no prize for the winner of this race. Rather, it is a celebration of the North and the fact that we need each other out there. This page will introduce you to the people who get this recognition every year from now on. I hope it will inspire you and remind you of what matters in life: Not a finish or a win, but who you meet along the way, lasting and honest friendships and being able to count on others when you need it most.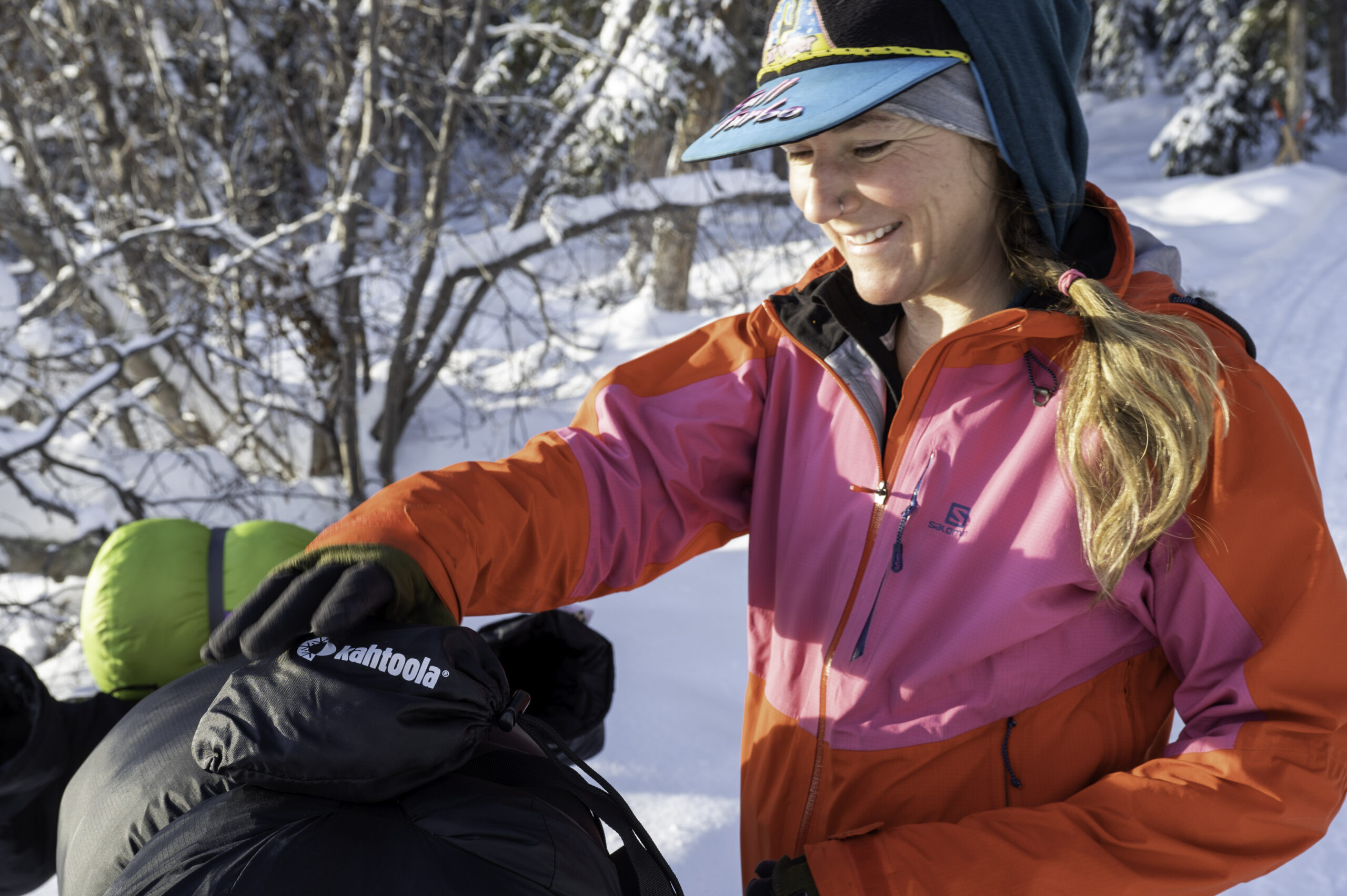 Jessie Gladish
The Shelley Spirit of the Yukon Award Winner 2023 (photo taken by Mark Kelly during MYAU 2019)
There are many reasons why the Shelley Spirit of the Yukon Award 2023 goes to Jessie Gladish. The most important one is the fact that Jessie has always been keen on helping others. She did not hesitate one second when the decision had to be made about who could take the lead organising future training courses after Shelley passed away. She likes to see others succeed and enjoy the adventure. Not only does Jessie care about others before the race. She also always keeps the safety of others in her mind during the race. On more than one occasion Jessie, as an athlete in the MYAU, slowed down and stopped to help fellow participants and/or to make sure they are okay.
Then there is Jessie's positive attitude. Yes, she has had very emotional moments on the trail, like most athletes. When she did the MYAU 2019 she said herself that she had been very tempted to burn her skis on a couple of occasions. In 2022 I was with her when massive overflows really messed up our race and tough decisions had to be made on the final stretch from Overland Parking to Takhini Bridge. It was not easy. It did not matter what nature or the MYAU threw at her, Jessie always kept her positive attitude, pushed through difficulties and came out the other end with her big smile. It's also legendary how she always arrived at the finish line looking like she just started.
Last but not least, it needs to be said that Jessie is the second participant and first female athlete to have done the MYAU 430 mile race in all three disciplines – foot, ski and fatbike. That's not why she is getting the Shelley Spirit of the Yukon Award 2023 but it's obviously an amazing achievement that needs to be mentioned. It's amazing that every single time Jessie competed, she also finished:
2015 (430 miles/foot)
2016 (300 miles/foot)
2017 (430 miles/foot)
2019 (430 miles/ski)
2022 (300 miles/fatbike)
2023 (430 miles/fatbike)
Jessie will continue organising the MYAU training course and she intends to be part of the race crew during the race, too. Who knows, maybe we will see her compete again one of these years. It will certainly be very interesting to witness what else she will do when it comes to racing ultras.
So, I hope you will all agree with me that Jessie Gladish really deserves this award. Like Shelley, she shows us all what the Spirit of the Yukon means. We are all very proud of you, Jessie. And I am sure that Shelley, who is watching us from up there somewhere, approves and has got a big smile on her face.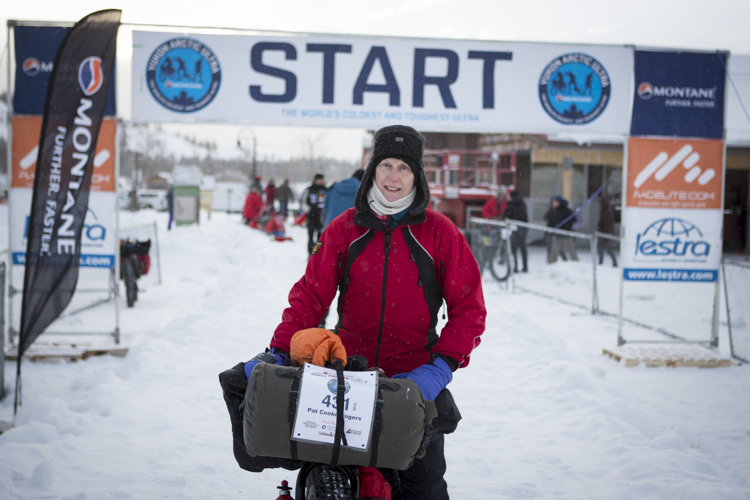 Pat Cooke-Rogers
The Shelley Spirit of the Yukon Award Winner 2022 (photo taken by Yann Besrest-Butler at MYAU 2015 start line)
In 2022 many athletes deserve the Award – actually anyone who showed up despite the Covid-19 pandemic and necessary race changes deserves it. However, the athlete I want to give this recognition to is Pat Cooke-Rogers from England. Pat has competed in the MYAU many times. Some years she finished and some years, like in 2022 she did not. Pat has a very strong belief in God. Personally I am not religious at all but I have enormous respect for Pat's beliefs and the fact that on her days and nights on the trail she feels close to God. Some years ago Pat, as the MYAU race chaplain, also started the Yukonprayer which takes place before the race – this time it was online. Anyone can attend and the feedback received has shown just how valuable it is to have this special gathering. It is Pat's nature to be there for others if they want it – before, during and also after the race. She knows what the much feared "DNF" feels like and helps athletes to get over the initial disappointment. That does not mean she is not disappointed herself if she can't finish. But, like Shelley, she does not dwell on it and instead looks at it in a positive way and is then immediately ready to help – often as a volunteer at checkpoints right until the MYAU is over.
Given all this, I am convinced that Pat deserves the Shelley Spirit of the Yukon Award. Just like Shelley she has become an integral part of our family and we hope to see her back as an athlete and race chaplain for many years to come. Thank you Pat for everything you have done for the MYAU – both the athletes and the crew.