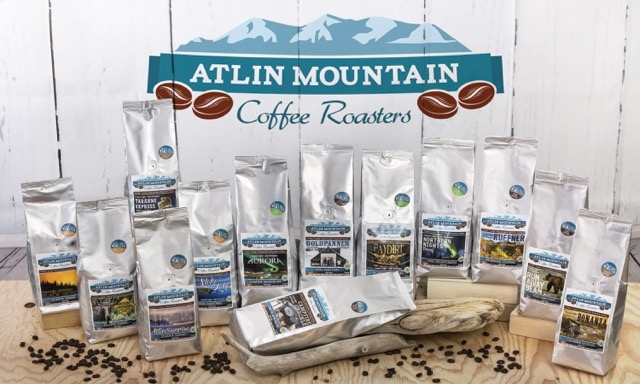 Lack of sleep during the MYAU is a challenge for both the athletes and the crew. A good coffee goes a long way in making us feel better! So, I did not have to think twice when Atlin Mountain Coffee Roastery offered to sponsor us coffee for our checkpoints.
More than a century ago, a gold rush put Atlin on the map. Now this remote, beautiful town in northern British Columbia is experiencing a new resource boom: wood-heat roasted coffee!
Whether you prefer your brew dark, medium, or light, the Atlin Mountain Coffee Roastery offers coffee as wild and full of character as the place it is roasted. No chemicals, pesticides, or blending: just organic, fairly traded, single-origin beans brought to perfection in the Canadian wilderness.
They love coffee, and they love the outdoors. The environmental and social ethos of this roastery reflects these values. Their unique wood-fired roaster uses local pine as fuel, harvested sustainably and split by hand. By roasting with radiant heat, beans avoid contact with smoke. The result? Fresh, artisanal coffee made with ethical beans and renewable energy. Going off-grid has never tasted so good.
Checkpoints where we intend on having this great coffee is Muktuk Adventures, McCabe, Carmacks an Pelly Crossing.