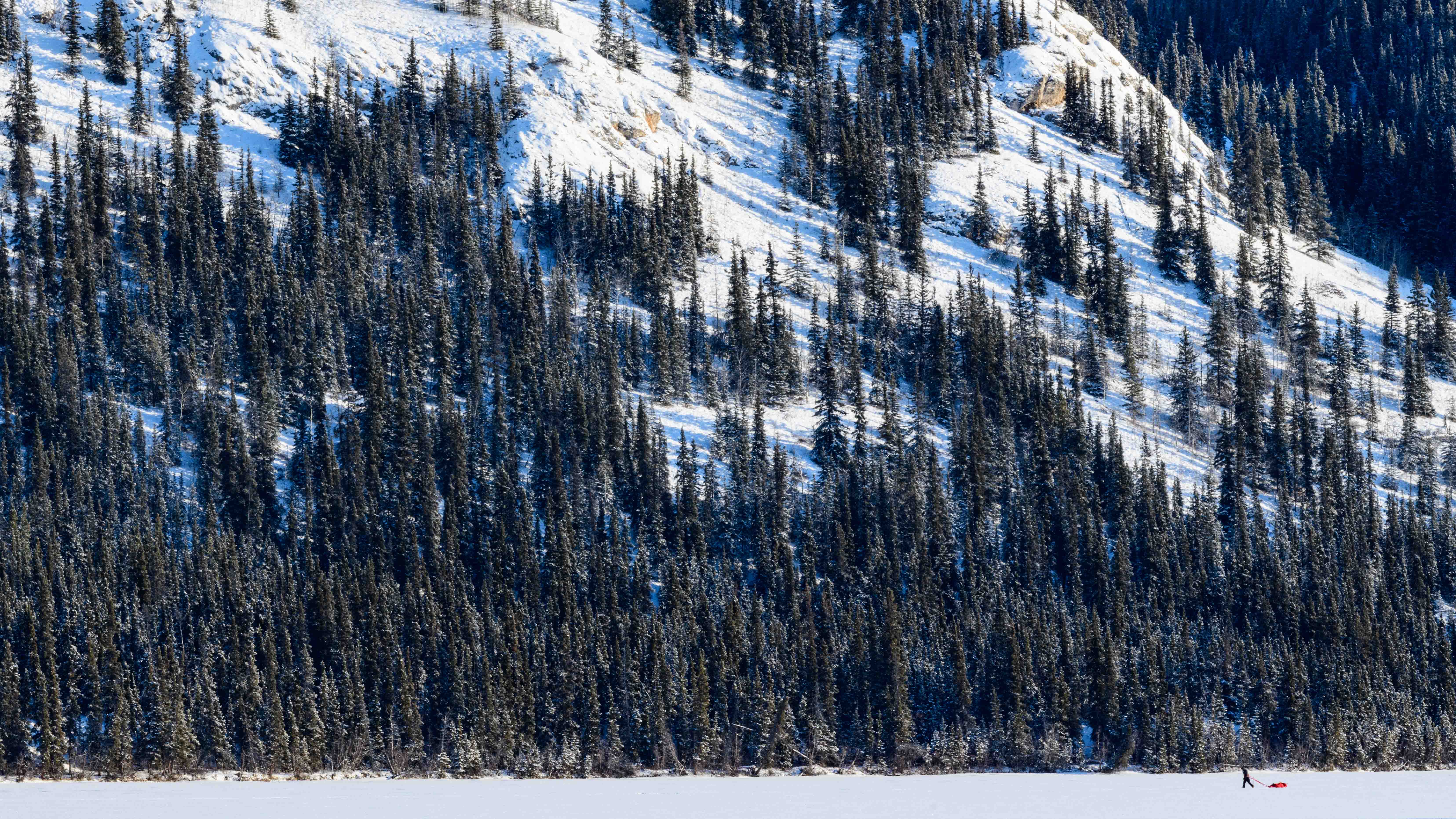 I kind of always start by saying that it was an exciting day. Guess what, today was pretty exciting, too. I thought with a bit of luck most people who made it through the first couple of days will stay in the race. However, already during the night we got a help message from Henrik Benzon not too far north of Ken Lake. First thing in the morning Bernard checked on him and it turned out that he just could not keep any food down. A bit later on we were told that Gerald Zechner and Joel Rennie needed to be brought out of Ken Lake. No problem with cold injuries but muscular skeletal pain. Gerald also had gone through a bit of overflow. On the way to bring those two out, the team encountered Ryan Shaw who had pushed his limit a bit too far and had to withdraw due to exhaustion. Once these guys were all in and we thought, no more for today, Joe Bishop came back from the trail with Luc Atgé who was tired and fighting with a bronchitis.
Markus Kolly who had gone to sleep only about 6 miles before the checkpoint was not sure about his fingers. It looks like frostbite he sustained in a previous year is causing him to really feel the cold more now – which is normal. He took a long rest but has made up his mind that he prefers not to risk anything. He will not continue.
This means in our 300 mile race we are now down to 3 competitors and 16 remain for the 430 miles.
Marianne Heading from England is currently leading the 300 mile distance. She is an MYAU veteran and even though she said that today was extremely tough – due to lack of snow on the trail to Carmacks – she is doing really well. Behind her is British runner Gareth Hardcastle. Just like Marianne, he looks very strong and is handling the conditions well. Last but not least, we have Ahmad Faithi Junaidi from Brunei Darussalam. Now, I do not know the average temperature in Brunei but I am pretty sure that it's kind of a "warm" country. Considering that, it's incredible just how comfortable he looks out there. He has got his layer management really dialled in. I have hardly seen him with ice on the outside of his clothing which is always a very good sign.
In the 430 mile race the current leader is Thierry Corbarieu from France. Well, actually, he is more likely from another planet. He is moving super fast. Always in a good mood and enjoying the adventure. In second place is Christof Teuscher from the USA. MYAU legend Enrico Ghidoni from Italy is in 3rd position but due to the fact that he started as a xc-skier and is now on foot, he is unranked. He opted for this because his ski set-up this time did not work for him. Besides he does not have to proof anything to anybody, having finished the 430 mile distance in previous years on foot, on bike and on xc-ski. For him this is a bit of a final chapter in his career as winter endurance athlete. Enrico turned 65 just before the race and said he would "retire" after this one. We will see … Next in line are MYAU veterans Pat Cooke-Rogers (UK) on fatbike and Laura Trentani (IT) on foot.
I have also seen all other 430 milers in Carmacks today. Of course they are suffering but at the same time they have kept their positive attitude and look forward to a section of trail that is way better now, heading towards McCabe Creek.
After Braeburn, Carmacks is a very important milestone. We know that a large percentage of athletes who manage to get here before the cut-off (tonight 10:30 PM) later on will reach the finish line. Temperatures are still fairly cold but not absolutely extreme. The crew is now in Carmacks, McCabe and Pelly Crossing. Tomorrow we will close Carmacks and open Pelly Farm, a day later also Scroggie Creek.
Luc Atgé (France) and Markus Kolly (Switzerland) will get a transfer to Whitehorse tomorrow. With a bit of luck most of the other participants will catch a ride back from their respective finish lines.