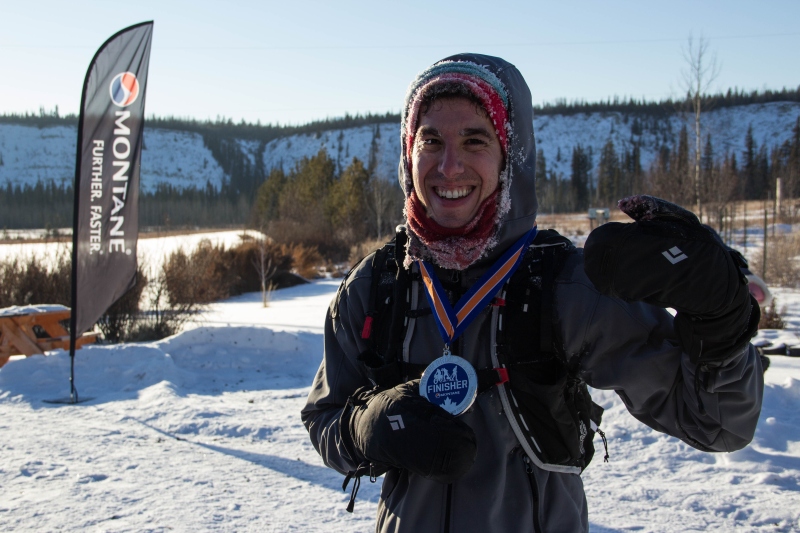 We had a really great first day! Cold but beautiful. The start was in time at 10:30 AM Shipyard's Park.
Congratulations to all marathon winners and finishers! Local athlete Brendan Morphet came in at 14:13 and took first place. He was followed by Kevin Embacher (at 14:16) who is also from Whitehorse and Corey Nislow (at 14:18) who is from Vancouver. Overall rank 4 goes to Kristin Daniel (at 14:33) who was also the 1st woman in the marathon to arrive at Rivendell Farm.
For the athletes on the way to Dog Grave Lake and Braeburn the temps went down to – 30 degrees C. So far we have nobody else who needs to scratch. Fingers crossed it stays that way. Bernhard Hasenbalg arrived in Braeburn late last night. And I thought he "just" wants to finish and take it easy. Oh boy … I was wrong. Good thing we have had crew in place at Braeburn Lodge and already are set up in Ken Lake. I am in Whitehorse and with a group of volunteers will hopefully leave in about 3 hours to be at the 100 mile finish line. Most of the action will be in Dog Grave Lake today. More news once I am set up in race HQ.
We did have three athletes who unfortunately had to stop their adventure. That's Anton Hierschläger, Andrzej Gondek and Kim Walker. They are all fine. Dissapointed of course but no serious injuries or anything like that. Both Anton and Andrzej had problems with a recent injury coming back. Kim was very exhausted. All are in Whitehorse and recovering.
We already have a lot of photos and some videos in our facebook group. If you do not use facebook, we will also feature these photos and videos on here. It just takes us a bit longer.