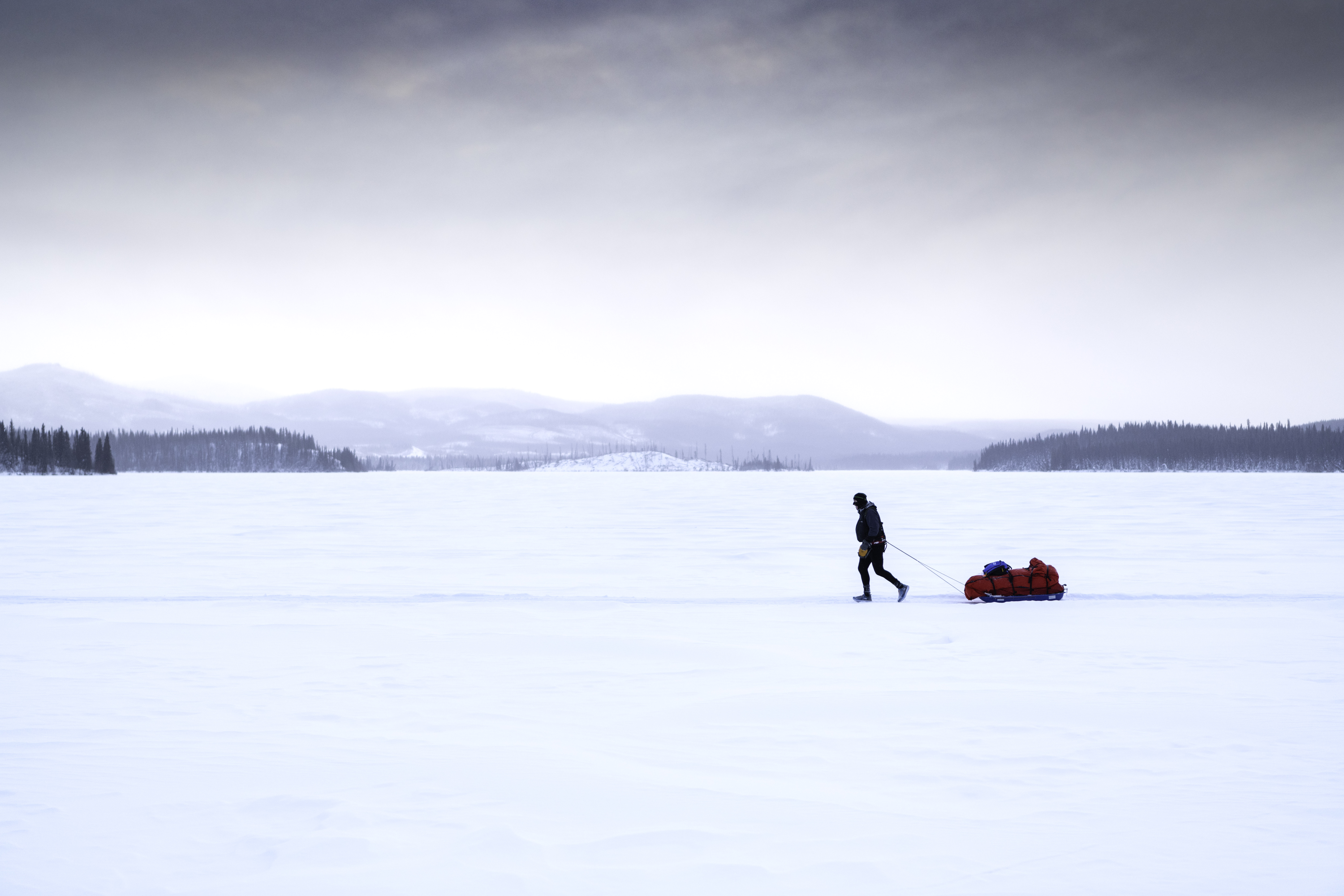 Fabian Imfeld from Switzerland is still in the lead. He was the first to head on to the Pelly River this evening. Those of you who have been following the Montane Yukon Arctic Ultra for a few years know that it has been a while since we last were able to use the river to get to Pelly Farm. For many years now the river ice has not been good enough to allow a full route on it. Which is always a shame because it is very spectacular. On the other hand, it is also very challenging because it is cold and the river does not go out in a straight line. If not using a GPS one might think the farm is just a mystery. It never appears on the horizon when people expect it to. For those who make it, Pelly Farm is a highlight. Dale and Sue are great hosts and athletes enjoy it so much there, they usually find it hard to leave again.
Tiberiu Useriu is currently resting at Pelly Crossing and is planning on getting up at 3 AM. He has had a rough day as his stomach has been acting up. So, I am glad he is giving his body a break.
Further back, on their way to McCabe Creek Patrick O Toole and Paul Deasy are faced with a totally different challenge: they have to maintain a perfect strategy in order to make the cut-off. Due to a delay in Carmacks they received a 6 1/2 hour time credit but it still means they can't slow down too much if they want to make it.
While the crew got ready at Pelly Crossing earlier today, some scratched athletes came by for a visit. Patrick Sumi, Hervé Acosta, Hugo Victor do Carmo, Maciej Zyto, Konrad Jedraszewski and Russ Reinbolt all came to say "hi" and spend some time at the checkpoint. They seemed in a good mood and enjoyed the hospitality of the Selkirk First Nation who invited them for a meal.
Now our volunteers and guide crew are resting. Mark Kelly is working hard to get the next photos uploaded.
I really enjoyed a visit from Freida who is our contact here for the usage of the building we are in and represents the Selkirk First Nation. One day I need to come back and spend some time here when I am not so busy. I find it very inspiring to listen and ask questions about the culture and learn about values, like respect for the elders and love for nature, how traditions are kept and the community is developing.