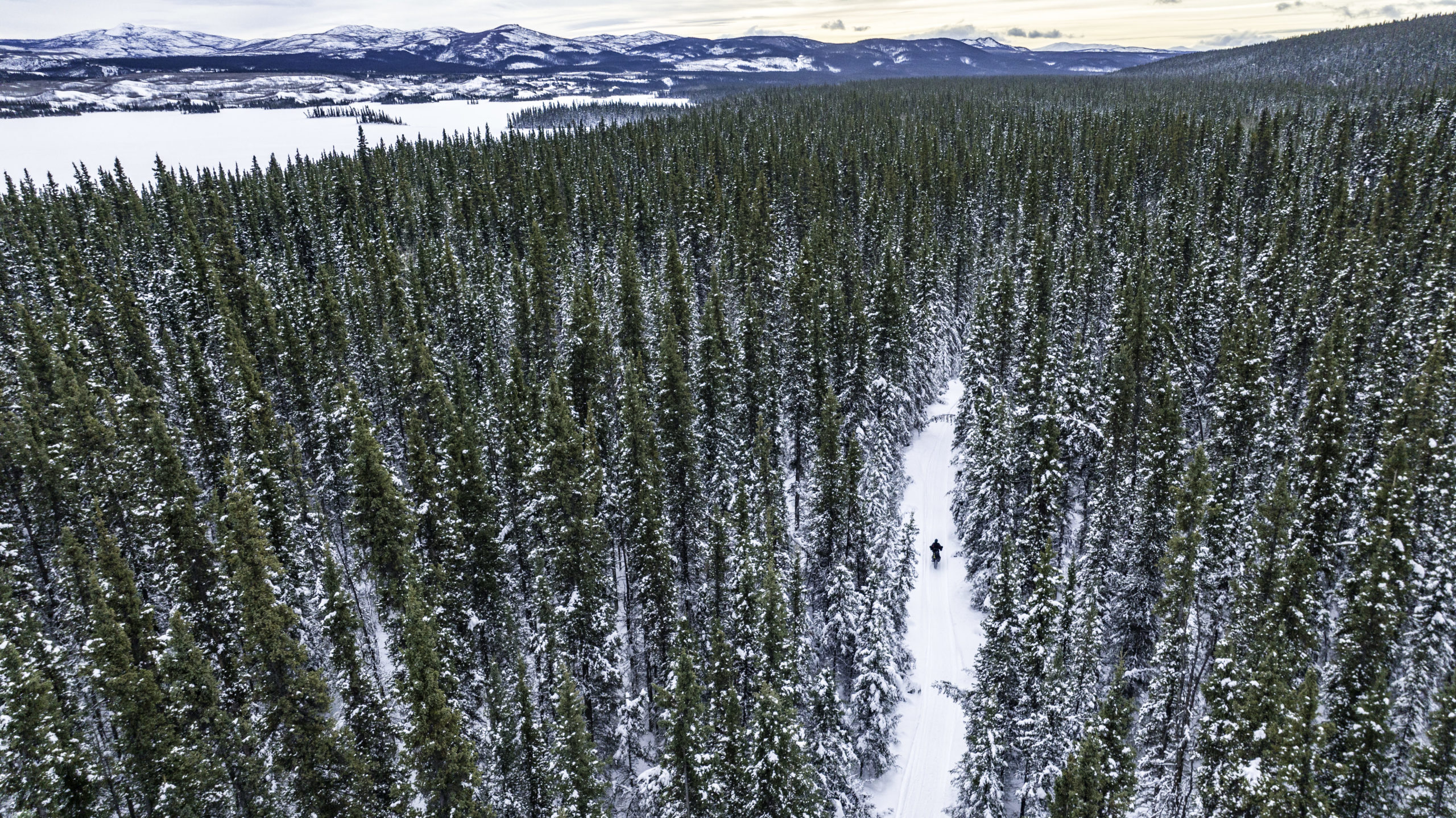 Copyright: MarkKellyPhotography.ca
Another Montane Yukon Arctic Ultra is history. It's been a tough one. Well, every single race has had some challenges and of course normally we focus on or worry about the extreme cold. This time the initial concern was the Pandemic. It had looked so good initially and then our worst fear came true. A new variant of Covid-19 caused rules to be tightened once more. Travel became complicated and there was a real threat that we may be forced to give up right until the week before the start. Because of a Yukon Government recommendation we decided not to go beyond Mandana Lake. This and travel restrictions led to a large number of athletes cancelling. And not only the athletes were struggling. We also lost a lot of crew members who had really been looking forward to and prepared for the adventure.
When organising gets difficult I try to look at it as if it were a race. MYAU athletes have a hard time to every now and then. To get through it, it's necessary to focus and take one step at a time. And of course to stay positive.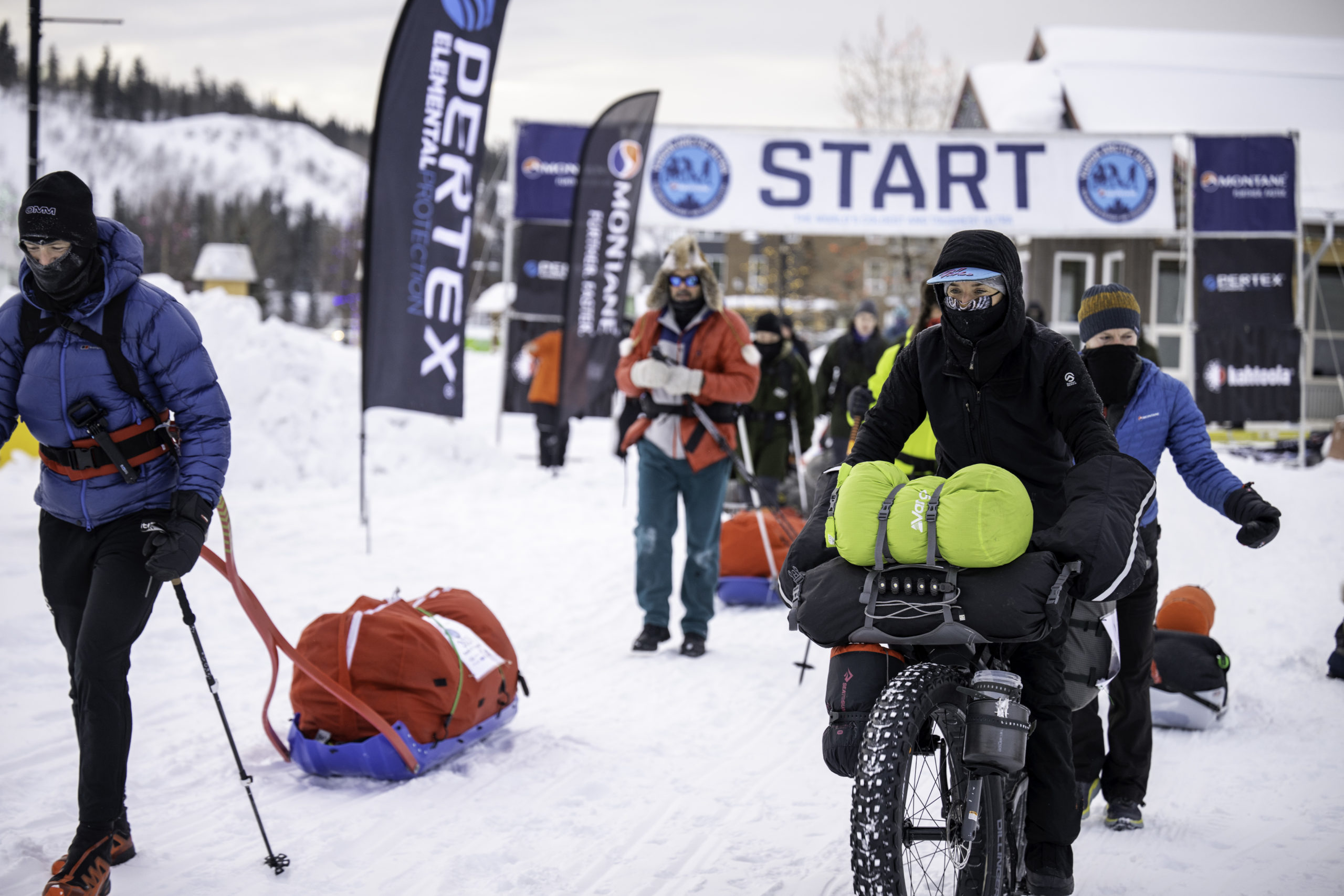 So, sure enough, there we were on February 3rd at the Shipyard's Park start line in Whitehorse. It was a staggered start without a big crowd and without our traditional big (and crowded) start photo and countdown. But we started.
Because of record snowfall, overflow on rivers and lakes was a main threat. Also, the first few nights were pretty cold still.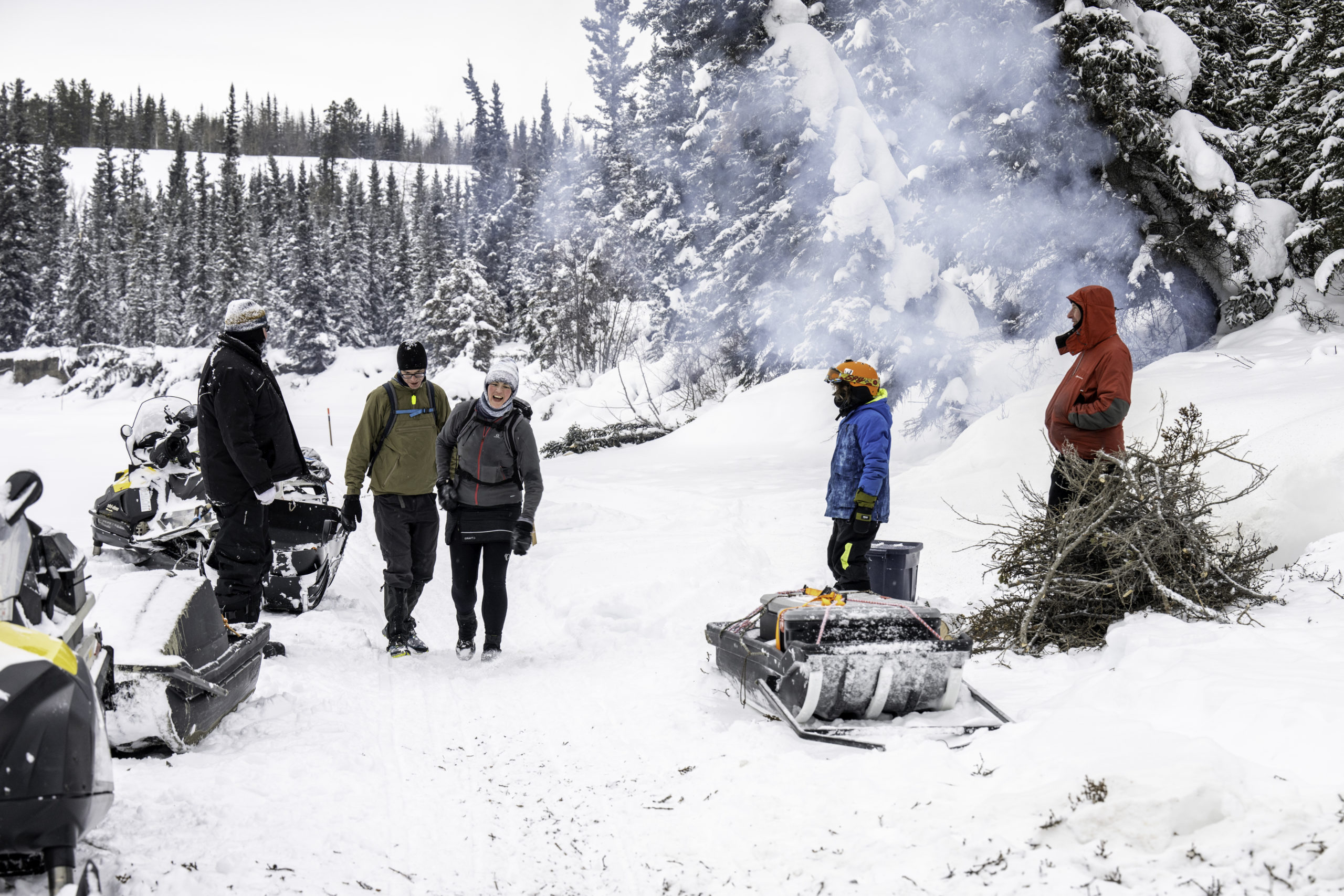 First things first, though. In the marathon we had 8 athletes and 2 of them unfortunately did not reach the finish line. The trail was soft and that makes this distance difficult as the participants only have limited resources with them. Local Derek Cronmiller (Whitehorse) arrived at Muktuk just over 4 hours which is an amazing time even if the trail is rock solid. Sydney Flodstedt (Calgary) came 2nd overall and 1st woman, with a time of 5 hours and 16 minutes. 1 hour and 11 minutes later Lara-Rae Trotter (Whitehorse) came 3rd overall and 2nd woman. Next up were Sarah and Benjamin Hancock (Whitehorse) who needed 6 hours and 30 minutes. Our last marathon finisher is Keith Gayhart who came all the way from Los Angeles. It was his second time at the MYAU and it took him 7 hours and 40 minutes.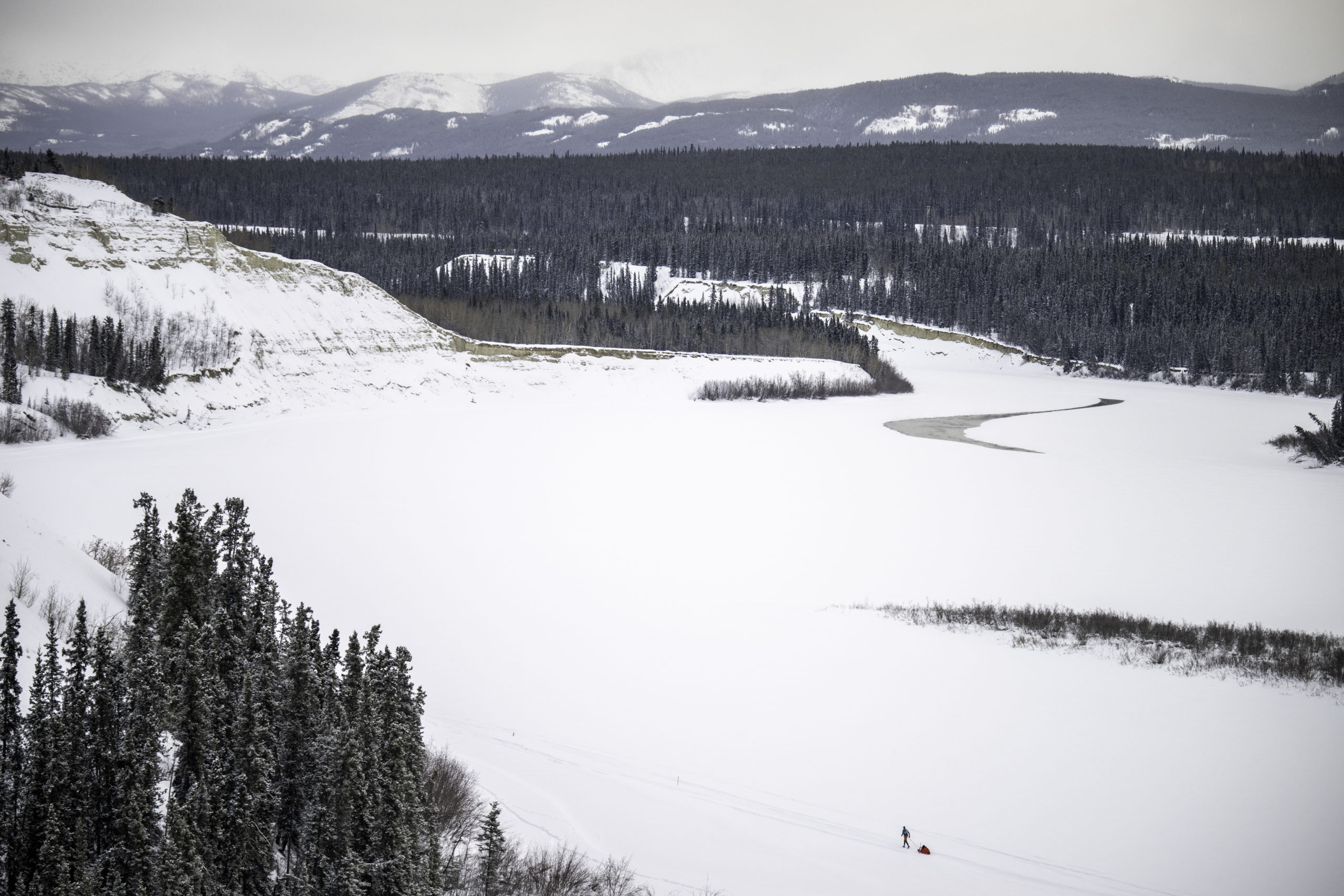 More participants had to end their adventure on day 2. Some of them had been really going strong but the cold and fatigue caught up to them. 2 athletes also did get stage 1 frostbite on their toes while they were approaching Dog Grave Lake, our next checkpoint. The trail continued to be soft and more snow was falling. Not only did the snow make it hard to maintain a good pace but it also led to athletes having more wet gear than they normally would. Some 100 milers, like Teri Polesky (Nakina/Canada) and Alla Bova (Stafford/USA), came really close to Braeburn but in the end had to admit defeat. Only Canadians Nathan Quinn (Vancouver), Connor Murray (Coldwater) and Brian James (Calgary) were able to finish the 100 mile distance within the cut-off time. It took them 64 hours and 36 minutes. Since they arrived at the same time they are all winners.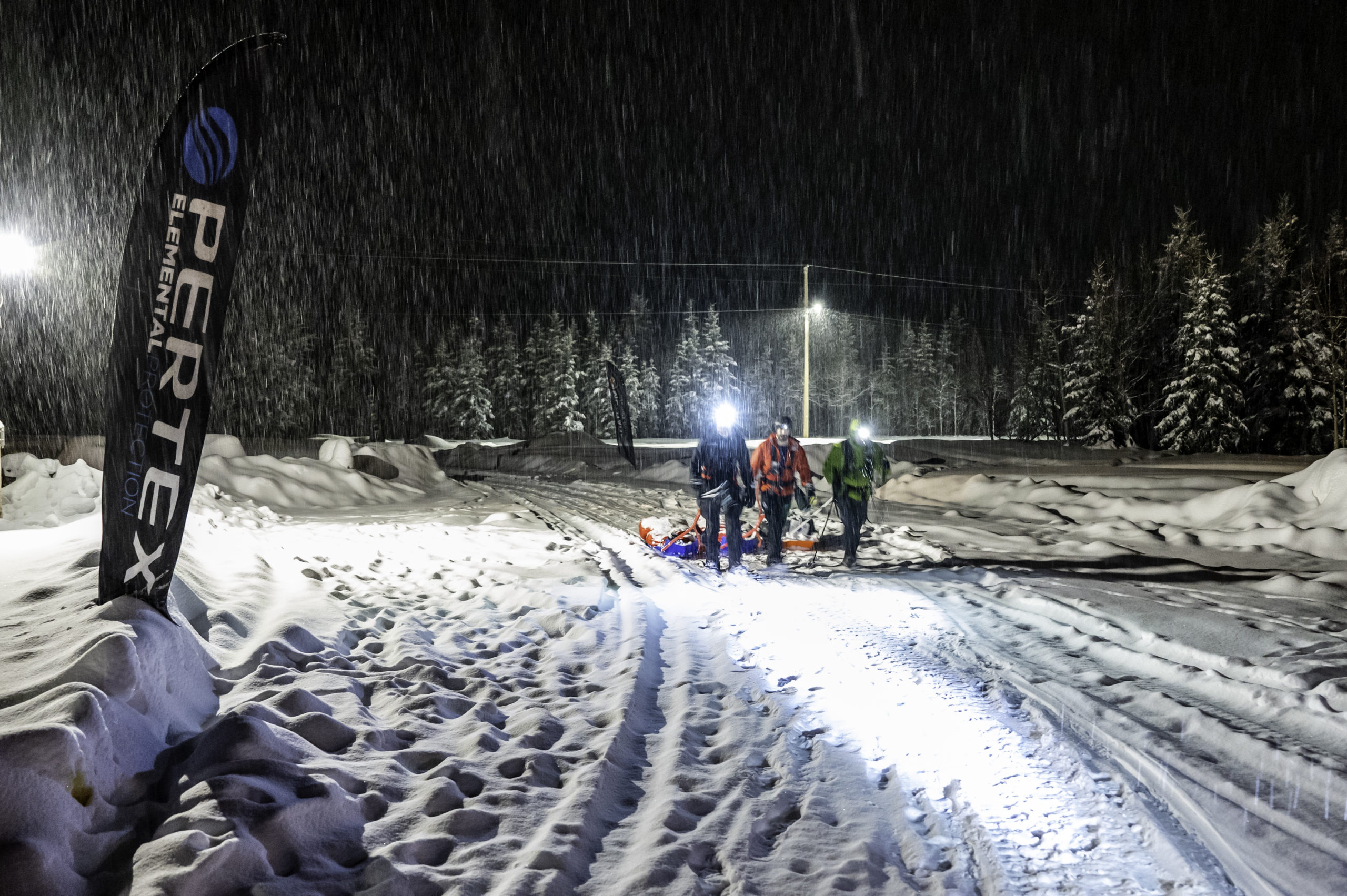 In the meantime, many of the 300 milers also suffered from the same problems and 9 of them did not reach Braeburn. At that point only Jessie Gladish (Dawson City/Canada), Kevin Leahy (Killarney/Ireland), Stephan Huss (Crailsheim/Germany), Daniel Benhammou (Littleton/USA), Aodh O Currain (Tralee/Ireland) and Phil Cowell (Gillingham/England) were left in the race – in that order. Kevin had a little "episode" with his stove that resulted in a 6 hour time penalty which, in the end, did not influence his ranking. All of them had to go through quite a few ups and downs. Temperatures got warmer but we still had snowfall and incredibly strong winds on the lakes. The weather once more resulted in changing overflow conditions. It got so bad on the way to Mandana that we had to turn everyone around already on Frank Lake. On the way back Jessie said she had one of her best days on her fatbike ever. By coincidence hunters had "groomed" the trail in front of her and it was hard enough so that she actually could ride her bike over quite some distance. When she finally reached a place called Overland Parking, just North of the Takhin River, we had to stop Jessie again. Reports of kilometres of overflow, some of it knee deep, meant we needed to decide how to continue. What an emotional roller coaster so close to the finish. The conclusion was similar to the one we had come to near Mandana. Snowmobile crew would struggle and rescues would be very difficult. Athletes could get in trouble and have a really hard time to deal with it. Not a good combination. I do have to admit that there is of course still room for discussions here. Overflow is part of this race and one might argue that athletes and we have to somehow face it and find ways to deal with it, even if it is extensive. Therefore, we will look into the subject more closely after this winter. To see what options we may have.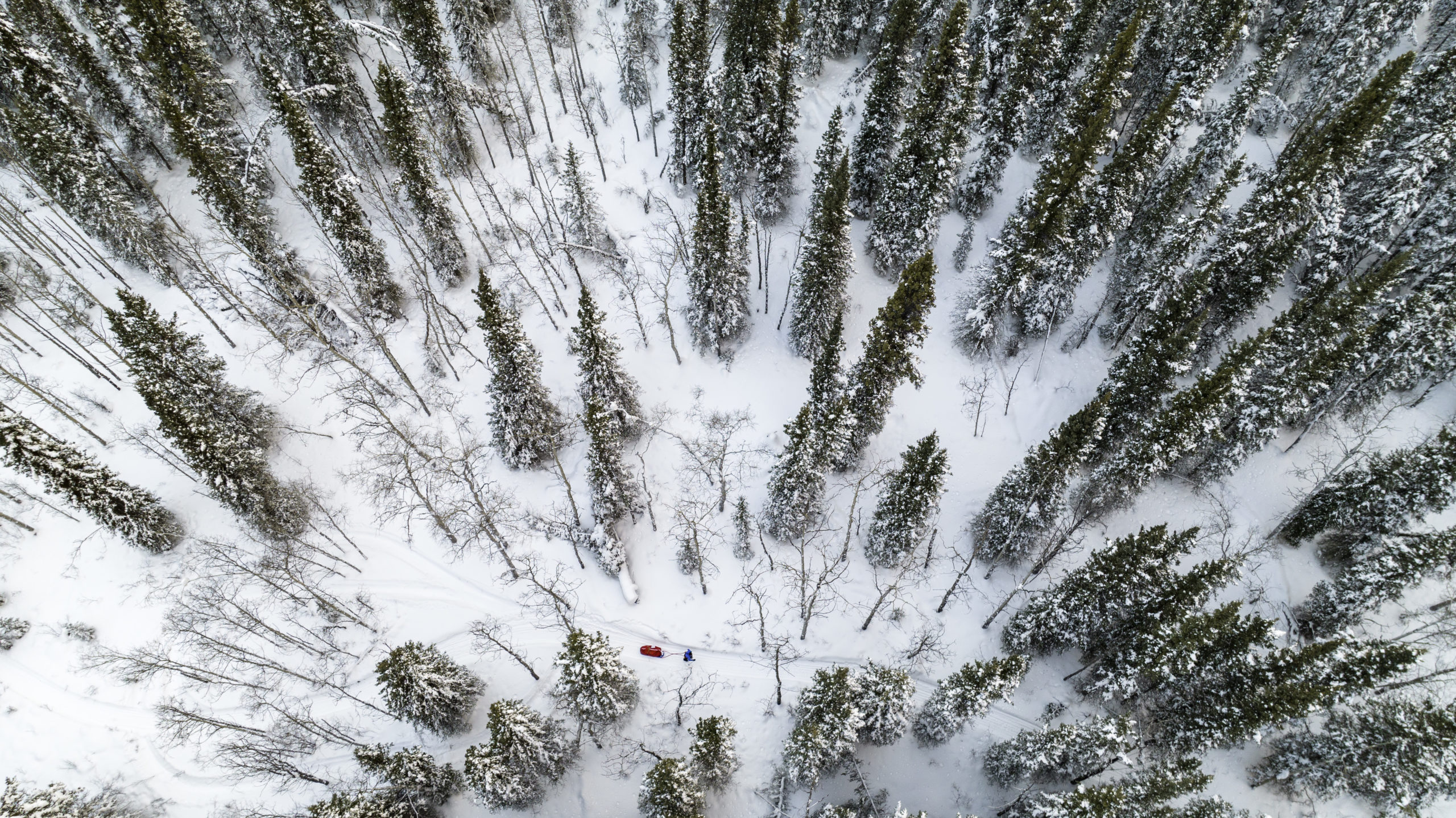 For Jessie and the others, this year, the decision was to move them by transfer to Takhini Bridge and let them reach the finish from there. We could have just stopped at Overland Parking but felt that letting the remaining athletes finish the final leg would feel better for them. At this point they all had found their pace and strategy to deal with the adverse trail conditions. For Phil it actually also meant that he was able to finish this year.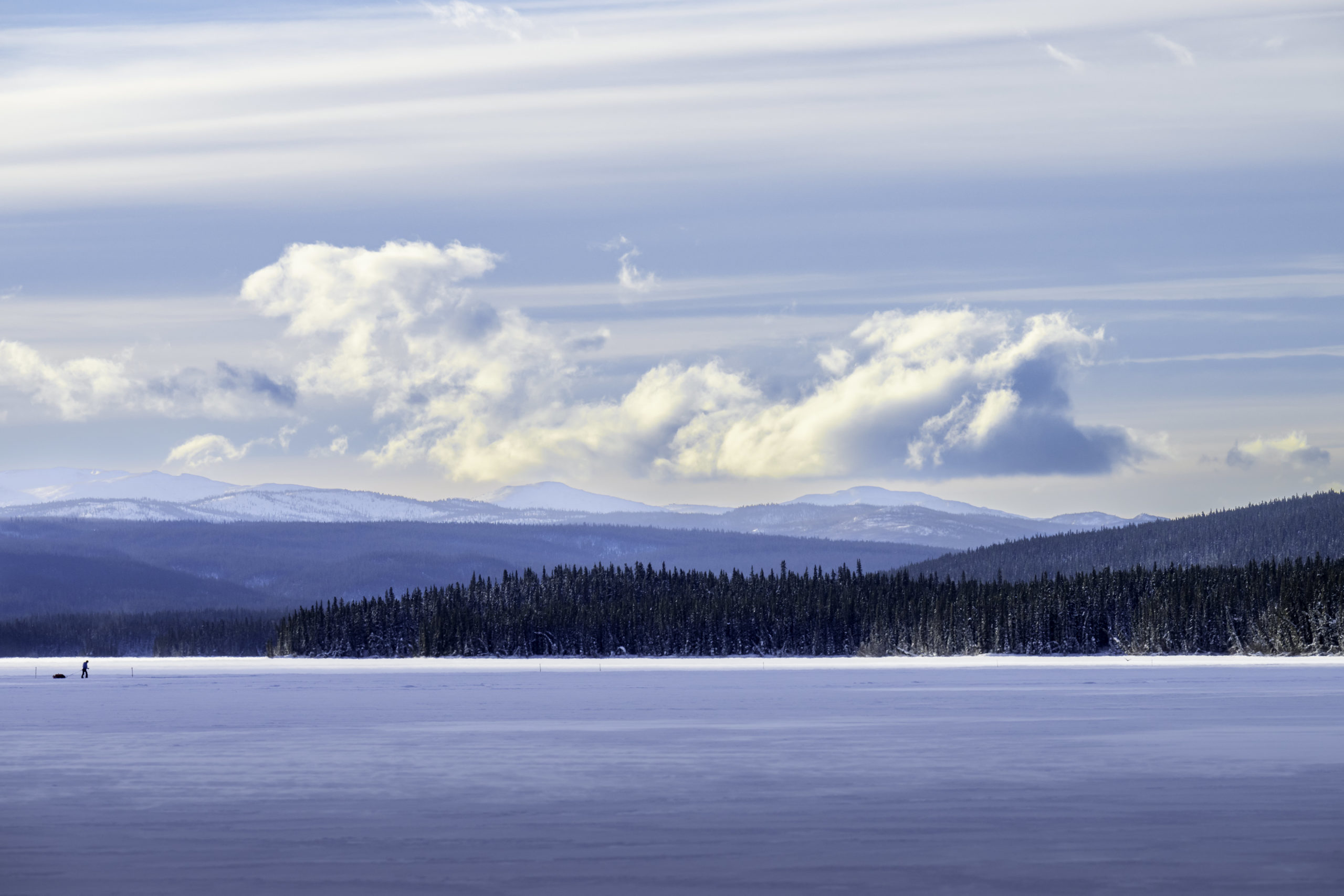 So, we waited for them all to come back to the Whitehorse finish line. Our finish chute was only up the front runners Jessie and Kevin. Jessie came in first – overall and in the women's category. Winds were so strong the following morning that our banners were blown over, just secured by the rope and very heavy cement blocks. Of course for the following athletes that did not make much of a difference. They all were happy to have avoided dragging themselves through overflow for hours on end and being able to finally reach Whitehorse again.
After Jessie we were able to welcome Kevin who came 2nd overall, 1st man and 1st athlete on foot. Third overall and 2nd man on foot was Daniel, followed by Stephan, Aodh and finally Phil.
Needless to say that in my books anybody who came and tried is a winner. Especially this year. All athletes could have just said "… not this time, I will just stay at home." That would have been totally understandable. Instead, they came and tried. So, a big congratulatons to all participants!
As always I want to close my final report by saying thank you to all supporters and crew who made the MYAU 2022 possible:
Thank you Gary Rusnak for having gone out countless times to prepare our marathon trail and for helping during the race, too. Thank you Bernard Stehelin for breaking the trail to Mandana with your fellow Rangers and for setting up the checkpoint there. It was so frustrating that, after all that work, we had to turn around and could not see the beautiful spot you had picked for us. Thank you to all other Rangers who were involved in the trail breaking and marking effort. Thank you Jessie and Gillian for having helped me to make 1,500 markers! Thank you Pamela Brown and Eric Schroff for the great job setting up the Dog Gave Lake checkpoint, for having been there for so many days and also marking trail. Thank you Robert Siefke and Joe Bishop for helping with the above. Thank you to all other snowmobile crew – Hendrik Weise, Fabian Schmitz, Jason Wolsky, Gary Vantell and Brad Heron. Thank you Don Banks for helping us from a distance and hosting us at Scuttlebutt Lodge. Thank you Hiro for getting all that firewood, marking trail and having everything ready for us at Scuttlebutt Lodge. Thank you to all the volunteers – Ross Knox, Amanda Roblin, Willow Brewster, Tim Milsom, Anya Svet, Julie Pritchard, Callum Joliffe, Cameron MacLeod and Margo Millette. Thank you Diane Patrick for your help in finding this wonderful volunteer crew and preparing them so well! Thank you to our checkpoint hosts at Muktuk Adventures and Braeburn. Thank you to our sponsors Montane, Pertex, Kahtoola, Racelite, Coast Mountain Sports, Total North, Yukon Yamaha, Best Western Gold Rush Inn, Fraserway RV, Driving Force, Atlin Mountain Coffee Roasters and Cumulus. It's been a great pleasure working with you all.
Last but not least, thank you Mark Kelly, Jason Wolsky and Adrian Mccarthy for film and photography. Mark will make photos available for purchase soon and I will also start sharing videos with you – hopefully from tomorrow. Then we all can re-live our MYAU 2022 in that way.
Was it worth it? Hell yes! See you all again next winter.
For those of you reading this and interested in signing up for next year, bear with me. I am headed to Sweden soon for the very first Montane Lapland Arctic Ultra. After that, I will talk to the Yukon Quest regarding their timing for 2023. Once they know, we will set our start date. I am guessing it will be around early April when entries will open. Until then I hope you all still have some fun in the snow! Stay safe and healthy.