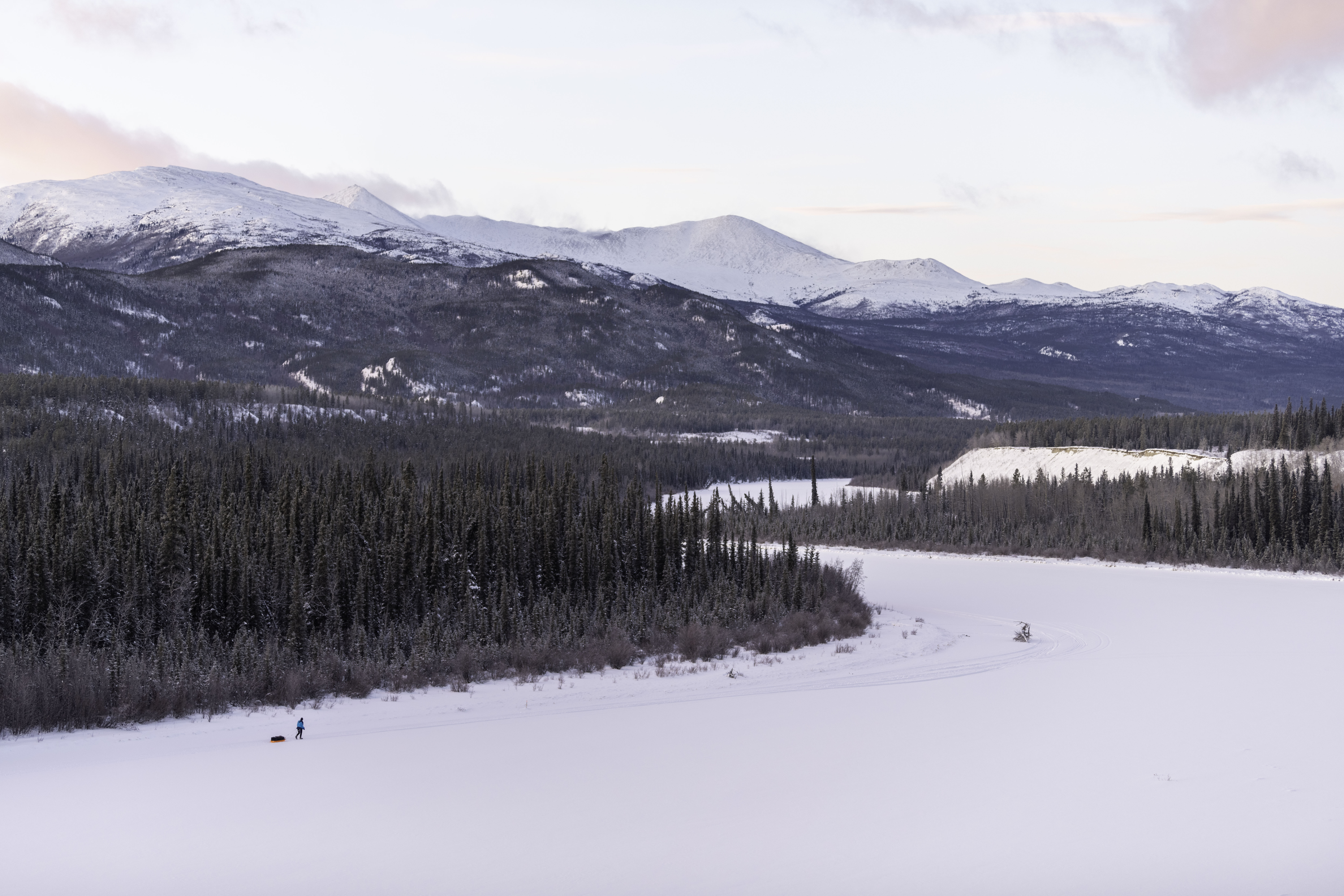 Another busy day on the trail and at the checkpoints is coming to an end. More 100 milers were able to reach the finish line. These are Richard Charles (New Zealand), followed by Steve Jones (England) and Gerald Zechner (Austria). As I write this the father/son team Joel and Hans-Jörg Hegner (Switzerland) have only a couple of miles left to go. A bit further behind are 100 milers Terry Gilmartin (England), Mark St. Pierre (Canada) and Donald Smith (Canada).
A few athletes in the 100 mile distance also had to stop their race: Julian Coulter (Canada), Sam Jeremy (Canada) and Alex de Sain (The Netherlands). Julian had frostbite on his fingers was brought out to get into an ambulance at the Overland Parking Lot. He received treatment at the hospital but did not have to stay there. However, he will get further treatment and should fully recover. His friend Sam was fine but did not want to continue alone. Alex de Sain quit at Dog Grave Lake. He is fine just a bit slow and I am assuming it was a pretty heavy sled that slowed him down too much. Logistics did not allow for Alex to come out today. So, I will spend another night in the Yukon wilderness with our crew.
Quick update also on Chad and Virginia. Chad believes it was not lack of drinking but he was not eating enough sugars and got too low on energy. Virginia's frostbite is getting treatment. Like Julian she did not have to stay in hospital and emailed today that she is fine.
On to the 300 miles.
Still in the lead and going very strong is Fabian Imfeld (Switzerland). Followed be a very determined Tiberiu Useriu (Romania). Both of them had to withdraw last year due to frostbite. In Fabian's case it was only minor. Tibi's problems were more severe. Due to the right treatment decisions, quick evacuation and state of the art treatment at Whitehorse hospital he fully recovered. So, to see these doing so well feels really good. Now they just must not forget that things can change any minute here. Hot on their heels is Swiss runner Victor Hugo. The Ken Lake checkpoint crew is looking forward to receiving them.
Unfortunately, also some 300 milers had to stop today. Kike (Spain) made the right decision last night to bivvy due to bronchitis. Other athletes who scratched are Maciej Zyto (Poland) and Konrad Jedraszwski (Poland). They are still out on the course in a cabin and waiting to be brought out tomorrow. Crew has seen them and they are fine. It's a bit unusual that we leave athletes waiting over night but seeing there is no emergency it's better the guides get some rest. It is safer than travelling at night. They have all the food the need, gear and a cabin. Other athletes who could not continue are Dirk Heller (Germany) due to small frostbite on nose and Vincent Turgeon (Canada) because of exhaustion. All other 300 milers are still going. Fingers crossed those south of Braeburn will be able to continue.
Lot's of people at Braeburn Lodge tonight! A big thank you to Steve and Lee for hosting us once more.
Later on we should hopefully see the first photos by Mark Kelly in our gallery. Tomorrow we will open Carmacks checkpoint and possibly also McCabe Creek. Braeburn will close.
It will be a cold night. With temps down to – 35° Celsius possibly the coldest of this race. At Race HQ we will be glued and organise the logistics for tomorrow.
Trails north of Braeburn continue to challenge the athletes. Wind and fresh snow, especially on the long lakes, mean that footing is soft participants need to be careful not to lose the way.