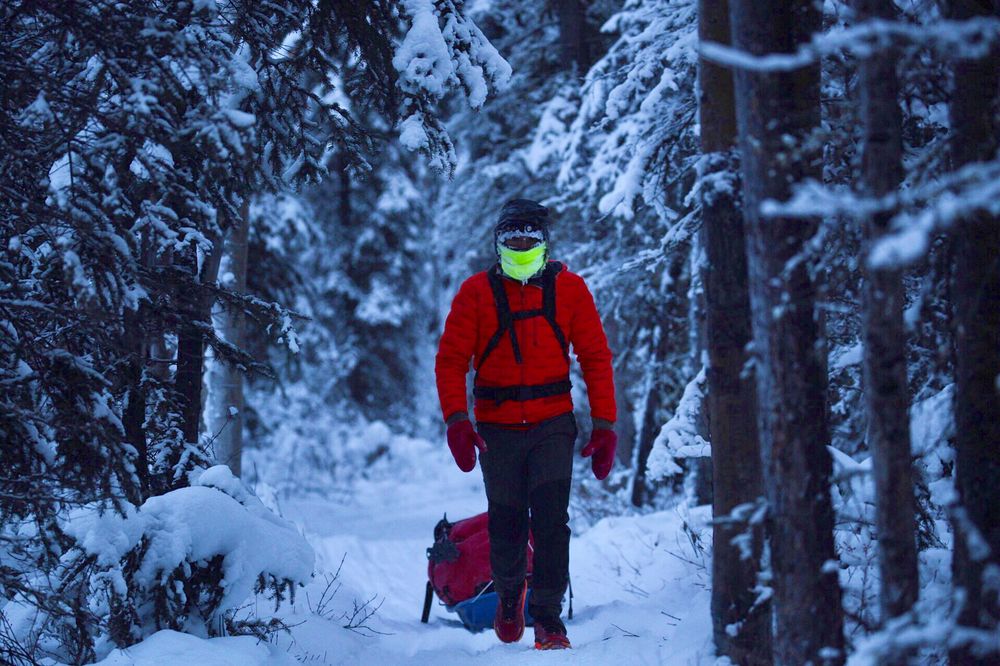 Well, where should I start with my final report after a race like this? It is the same procedure as every year I guess, by me saying: "Every MYAU is different and once again we faced new challenges and situations we have not been faced with before". We had cold temperatures before but this constant cold of – 35 to – 45 degrees Celsius, that was new. No time to relax a little bit. Athletes constantly had to really focus on all aspects involved when trying to stay warm. On day 1 things looked very good. All except one marathon runner finished. And that is quite something! A marathon in these temperatures, with only hot water or tea at the half way mark and self sufficiency on food. That is a big time achievement. So, congratulations to all participants! Like last year 1 CAD per km run will be to the charity
Little Footprints. Big Steps
.
The ultra athletes all looked good at the marathon finish which premiered at
Muktuk Adventures
. Pure luxury for the athletes who were actually allowed to go inside a warm building and eat and drink there. In past years we were at Rivendell Farm, a great place, too. However, going inside was not possible. Once again thank you to the entire Muktuk Adventure team for hosting us and making it such a great experience.
It was the first night when the problems began for some. Especially the cold areas just off the Takhini River hurt our participants. Unfortunately, that night also brought us the first cases of frostbite. And it is so difficult to imagine how quickly this happens if you have not been in this kind of cold before. One wrong decision and it hits you before you know it. Temperatures got so cold that we were experiencing difficulties with machinery. Generators broke, ski-doos did not start and with cars/trucks it was not much easier. When we knew that going on the trail would be impossible for the guides, the race came to a halt. Once all repairs were taken care of, we continued. Unfortunately, on the way to Dog Grave Lake and Braeburn, many athletes had to scratch. Our 100 mile race saw 4 finisher and they all arrived looking good. Congratulations to Emanuele Gallo (Italy), Peter Mild (Sweden), Tomas Jelinek (Germany) and Michelle Smith (UK)!
For the 300 milers the suffering continued. Night after night is was extremely cold. I think a very important message was sent by Frode  Lein (Norway) and Asbjorn Bruun (Denmark) when they slowed right down after Braeburn to stay hydrated and dry. It meant that they had no more chance to make the Carmacks cut-off. But sometimes the MYAU turns more into an expedition during which survival really has to be the priority. Yes, a DNF is never easy to accept but if it helps to avoid cold injuries, it's the better option. Of course that is easier said than done. Almost everything has to be in one's favour in order to avoid frostbite in these temperatures. Perfect gear, knowing how to use it, changing layers, keeping dry, hydrating and eating, resting and so on. It all has to come together. Like some athletes said, it becomes a process of "continuous problem solving".
Pretty soon we had only 3 athletes left in the 300 mile race. Jethro de Decker from South Africa, Ilona Gyapay from Canada and Roberto Zanda from Italy. All of them were going strong and looked good when leaving Carmacks. Unfortunately, Roberto got into trouble about half way to McCabe. He was rescued to safety and I would like to thank the entire team, especially Glenn and Spencer Toovey who were out there, found him and did everything right. Also a big thank you to Jo and Diane who helped me with the co-ordination of the rescue. Furthermore, thank you to the RCMP, EMS, helicopter crew and the hospital staff in Whitehorse. I visited Roberto today and he is on his way to recovery. He actually said that he wants to be back!
Jethro had already left for Pelly Farm, when Ilona arrived in Pelly Crossing. Finally, frostbite had gotten a hold of her fingertips, too. Being a xc-skier in the Northwest Territories she was not surprised. She had been more afraid for her feet but these were fine. Nonetheless, her race was over. Her achievement is incredible, though. I have never seen a xc-skier move this fast on the Quest trail. Maybe Enrico Ghidoni but I would have to compare the times to be sure. Jethro in the meantime just kept on going. All smiles and somehow immune to the cold. It has to be said that Jethro had been here before. He participated in Stewart's survival course and learned some valuable lessons the first time around. This time he got it all down to an art and finished in Pelly Farm. I am positive he could have easily gone back to Pelly Crossing but we did decide to stop the 300 miles at the farm. Congratulations Jethro for getting this far in these kind of conditions!
Thank you to all athletes for having come to the Montane Yukon Arctic Ultra 2018. I hope to see you all again – be it in the Yukon or another ultra adventure!
Thank you to this great crew – on the trail and at the checkpoints! Diane, Julie, Jo, Anja, Martine, Medina, Tania, Branka, Shelley, Richard, Peter, Gavin , Tom, James, Pamela, Stewart, Gary (Young), Gary (Vantell) and Gary (Rusnak), Josh, Joe, Glenn, Spencer, Tony, Robert and Ross. Thank you also to Gillian, Bernard and Hector who took care of the Ken Lake checkpoint.
Thank you to our sponsors Montane, Primus, Yukon Tourism and the many local supporters like Muktuk Adventures, Braeburn Lodge, Carmacks Rec Centre, Kruse family, Selkirk First Nations, Sue and Dale from Pelly Farm, Coast Mountain Sports, Fraserway, Driving Force, Coast High Country Inn,  Total North and Atlin Mountain Coffee Roasters.