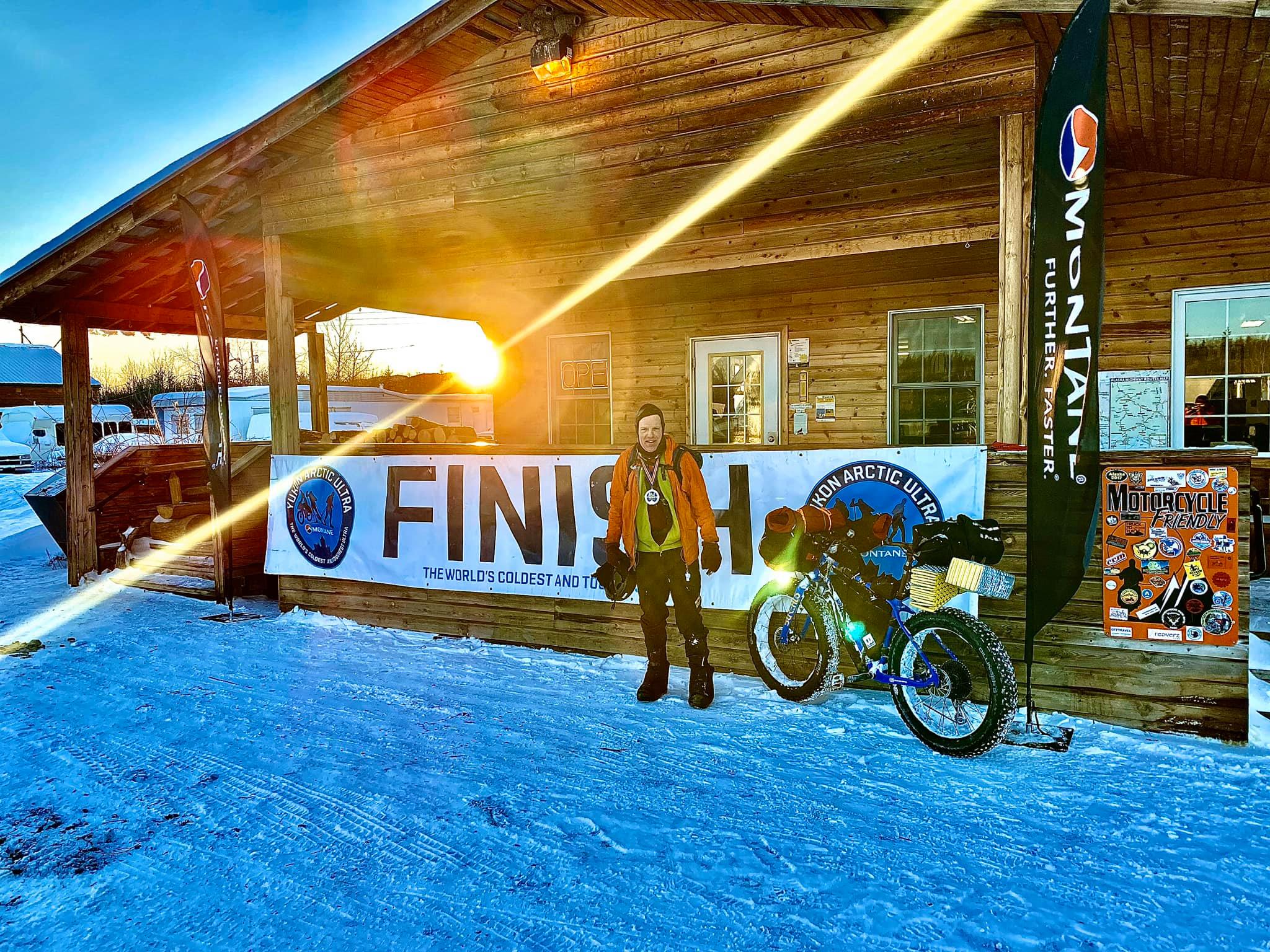 Yesterday at 16:22 local athlete John Berryman arrived at Braeburn Lodge with his fatbike and won the 100 mile race. Next up was Kevin Leahy from Northern Ireland who won the foot category after impressing everyone with his super strong performance.
Local runner Virginia Sarrazin arrived third overall and won the women's foot category. Unfortunately, she had to be diagnosed with frostbite on her feet and was brought to Whitehorse Hospital by friends.
As Virginia was approaching the final miles to Braeburn our crew attended an SOS message from Chad Barber who at that time was 6.7 miles south of us. He was developing hypothermia. To my knowledge he had no frostbite but could not get warm and was starting to get disorientated. Of course the right thing would have been avoiding to get into this situation but it looks like it was a good idea to initiate the SOS. I will know more when I talk to him and our crew member who brought him in. Chad is now resting.
We also already know that James Binks, who currently is at Dog Grave Lake, will not continue beyond. The entire team would have loved to see race veteran James finish but I am sure that, as always, he did the right thing.
Before all this, i.e. yesterday morning Dirk Groth (Australia) and Lana Rogzinsky (Canada) had to end their adventure. Along with Darren Hardy (UK), Vincent Turgeon (Canada), Frederik Strange (Denmark) and Walter Hösch (Germany). Dirk had problems with a knee, Lana had issues with one foot, with Vincent and Frederik it seems to have been exhaustion and Walter suffered from frostnip on his fingers. They are all safe and back in Whitehorse.
Fabian Imfeld (Switzerland) who is in our 300 mile race has reached Braeburn and is looking very strong.
All other athletes, with the exception of Alex de Sain (The Netherlands), have reached or passed Dog Grave Lake checkpoint.
Congratulations to the winners/finishers! All who could not achieve their goal this year and need recovery time I wish you all the best and that you get well soon.
We currently still have crew at Dog Grave Lake, Braeburn and Ken Lake. The latter is struggling with a totally different challenge. It seems some squirrels enjoyed the comfort of the cabin there and caused damage. Some years ago Bernard and crew had to deal with bear damage.
All this is a reminder that we are in the middle of the wilderness here. It is beautiful but if making mistakes it can also be merciless. In addition, it is also a strong reminder that cold weather injuries do not only happen at – 40 degrees Celsius.
I am very proud of our crew! All oft hem are working hard and through the night to make sure the MYAU is a safe as it can be.
Now is a new day and we will see what it has got in store for us.
For frequent news and many great photos and stories I recommend our facebook group: https://www.facebook.com/groups/40662499911/. On our official website we will hopefully get the first photo uploads in the gallery later today.