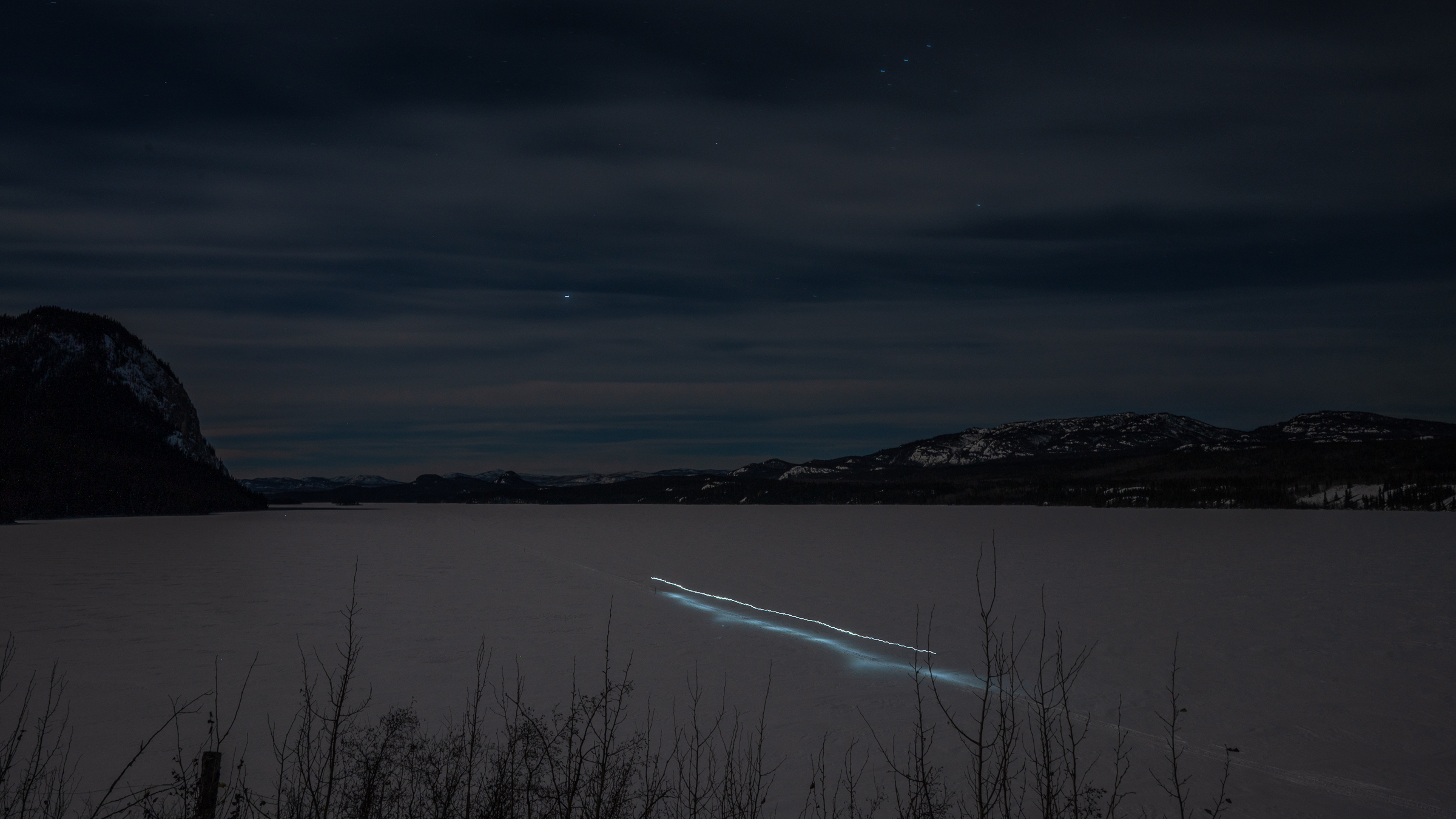 Copyright: MarkKellyPhotography.ca
Day 5 was quite eventful. We knew that Jessie Gladish would be quick. That's why Peter, Anya and Tony from our checkpoint crew drove to Pelly Crossing with our race RV from Fraserway in the morning. In the meantime, our guides Gary Rusnak and Robert Siefke brought gear for the Scroggie Creek remote checkpoint to Pelly Crossing and Pelly Farm. Later Gary checked on Matt Weighman who is currently second overall and first athletes on foot.
In the afternoon we set up as far as Pelly Farm – and we are all super excited to visit this magical place again. Even better, our athletes get to go out to Pelly Farm on the Pelly River. Due to the often difficult ice conditions that has not happened in years. This section is notoriously cold but also incredibly beautiful. Jessie is now on her way there and may arrive in the early morning hours. At Pelly Farm all 430 mile athletes have a mandatory stop of 8 hours before they head into the most remote section of the race.
Further back and earlier last morning (Feb. 8th) our guides Fabian Schmitz and Hendrik Weise went for some quick troubleshooting near Carmacks. Then they drove out to check towards Mandanna. On the way they came across Pat Cooke-Rogers who was experiencing problems with her bike. They were able to help. This help does mean a time penalty but at least Pat was able to ride some of the remaining distance to the next checkpoint. In the end she did have to push her bike again but she came to Carmacks just before the 4 days and 12 hour deadline.
Shortly after Hendrik and Fabian had helped Pat, Hendrik started having issues with his snowmobile and they got delayed on their way to help bring out our Mandanna crew. At the end of the line, we were constantly monitoring the progress of Tania Halik, hoping she would arrive in Carmacks in time. Unfortunately, it became clear that Tania would not get here before 22:30. Therefore, we brought her out. That was a shame (as it always is) because it is very obvious that Tania would easily make it to Dawson if she would have a bit of extra time. Although she did say that her feet were bothering her. Eventually, Fabian was able to join crew members Sam, Beth, Bryan and Dan. All Mandanna checkpoint gear was loaded and brought to a shortcut to which Hendrik in the meantime had brought his broken machine.
It was great to reunite with them and to see that they really enjoyed this adventure. Special thanks to Bernard Stehelin for preparing the gear that was needed and to Peter Heebink for allowing us to stay at his cabin – with such stunning views!
In between the front and the end things have been moving along well, too. Many more athletes arrived in Carmacks and left again. Our crew here, Sabrina, Phil, Ellie, Callum and Daniel were super busy. Some athlete are still resting in Carmacks and will leave later today. Gareth Hardcastle, Laura Trentani and Tommy Chen are on their way to Pelly Crossing. Chad Bustin is at McCabe Creek where the Kruse family are our host. It will be a busy night there for Jo and Jim from our crew as there will be a steady flow of athletes over night.
Our guides Tom and Chad were busy checking south of McCabe and later picked up drop bags and drove to Pelly Crossing. That way they are not far from Pelly Farm where they need to be in a few hours.
With the above details you get a bit of an idea of the logistics we have and challenges we some times deal with. So, long hours for the athletes and long hours for the crew. But all are very happy and as always, we from the crew, are very impressed by the participants. Yes, there is suffering but there are also a lot of smiles, laughter and fun. And NEVER have we seen such a high percentage of starters make it to Carmacks! To wrap it all up we were able to see some nice Northern Lights.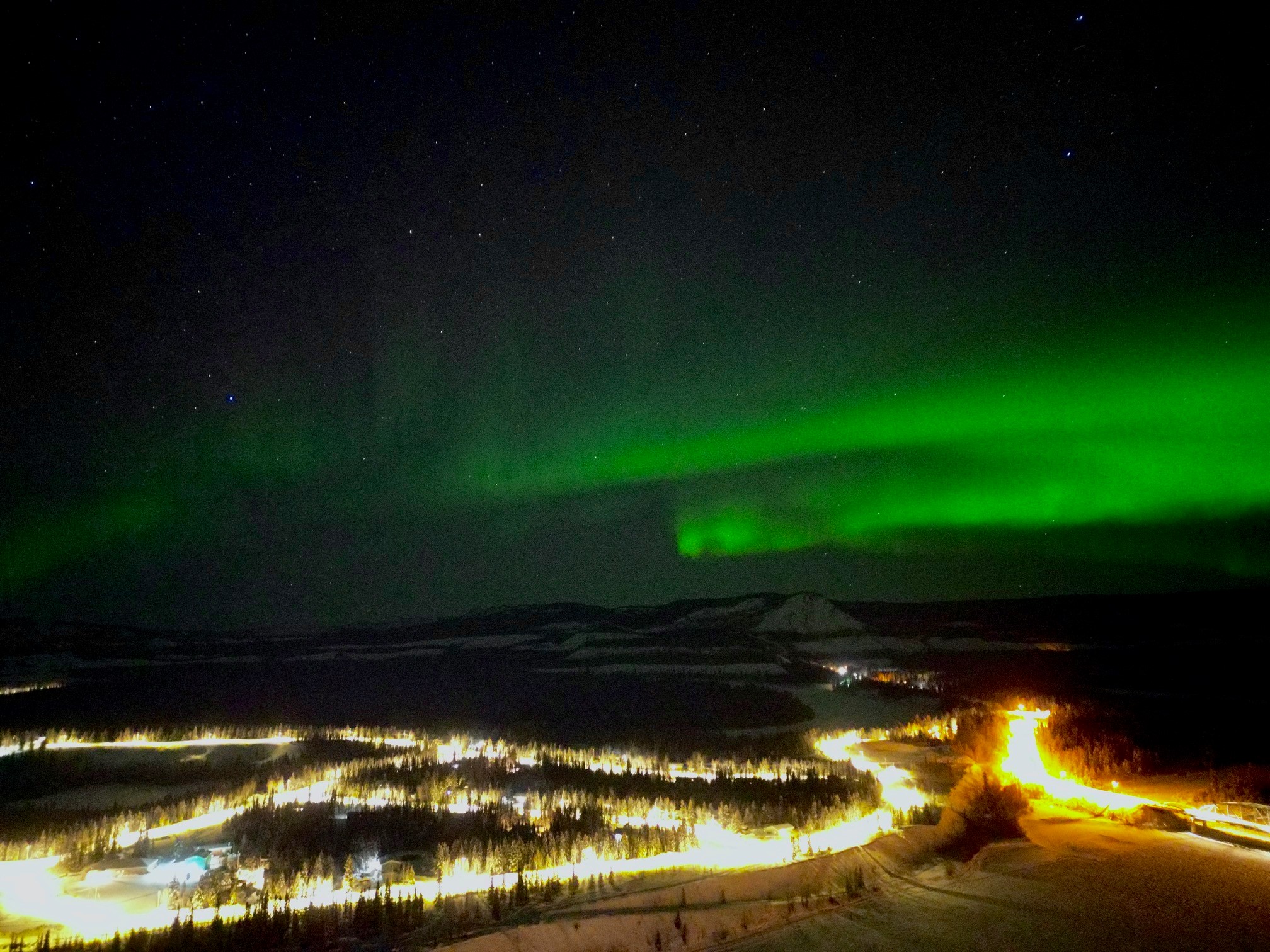 Copyright: Callum Jolliffe