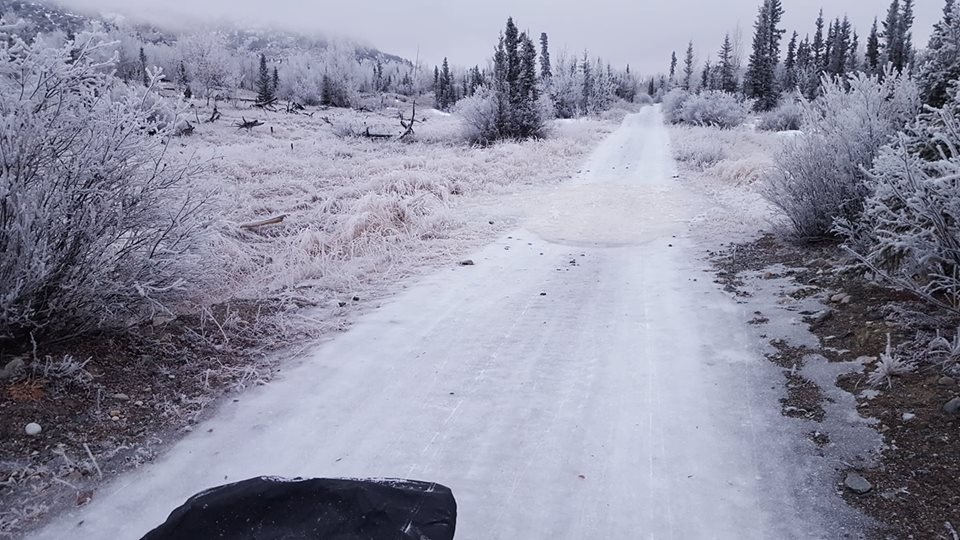 Right now the Dawson Overland trail is very icy until about 10 km south of Dog Grave Lake. There is also a significant amount of overflow. Furthermore, we have the challenging situation that the Yukon River and Takhini River are not snow covered. As we now get closer to the start day we will take it one step at a time. Currently we are not planning on making any changes. If there would not be enough fresh snow, it may mean an extra effort of getting markers into the ice. It would also mean that the entire part of the marathon and a bit after the marathon everybody will be on river ice. So, spikes are a MUST.
We will evaluate the weather/trail situation every day now and if we make any changes I will update you all via our Facebook group and this news section here.
Dog Grave Lake is ready
Together with Robert Siefke, Pamela Brown and Eric, Stewart Stirling went into Dog Grave Lake to set it up. Thank you for that, guys! Stewart did a short video that shows you what some of the trail looks like:
This was taken yesterday between Dog Grave Lake and Braeburn Lake on the race trail. You may have heard the term overflow, well this is what it looks like.Just some of the conditions to expect on the MYAU. Snow, ice and WATER!

Posted by Stewart Stirling on Sonntag, 21. Januar 2018
Keep in mind, as we go north it gets better but be prepared also for the not so nice parts of the trail.