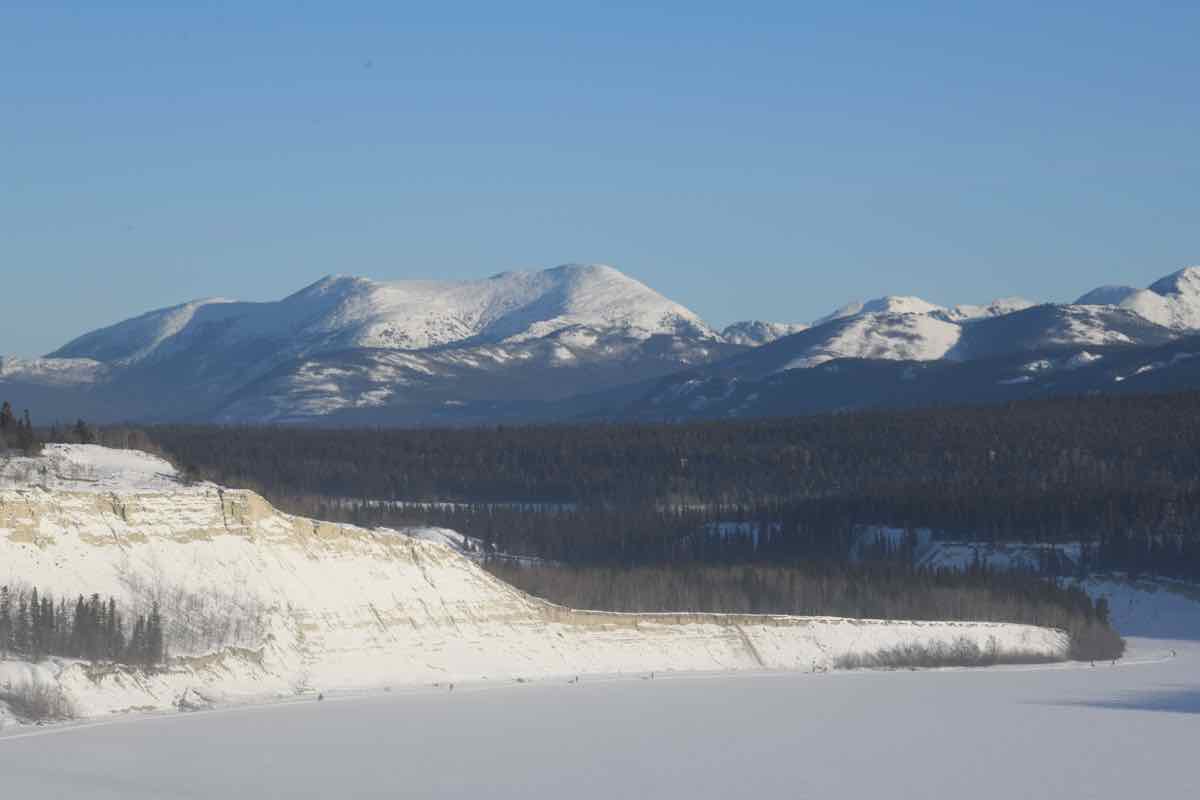 As always at Muktuk almost all participants were looking very strong. Only 430 mile athletes Darrah Miskell and Palle Andersen could not continue. With Darrah it was due to bronchitis and Palle simply did not feel well. Having already finished this distance in a previous year, it's understandable that he did not wan to go on.
The two brothers, Kim and Kevin Walker, who were in the 100 mile race, decided to spend the night at checkpoint 1. They wanted to have a good rest and then decide what to do. In the end they opted not to continue.
All other athletes did venture out into a very cold night. Although the clouds already meant that temperatures did not go down to the absolute extreme. Still, after a long day and certainly in the Takhini area, which is known for being chilly, it was tough. We tried something new this year which was to place an RV at the overland trail parking lot. That is where last year numerous athletes had a hard time. And it was a good decision. Jason Carpenter felt really cold and could not go beyond. James Binks also pulled out at this "exit point". Both stayed in the warm RV where Sarah and Trish took good care of them. Some more athletes were camped outside and this morning two of them, Scott Carey and Robert Jeffery, did not go any further.
Matt Hosford got a ride out from friends. Réjean Moreau and Mark Melville Taylor also did not get to Dog Grave Lake. Both were taken south by one of our guides. Already before that we were informed that Romanian athlete Tiberiu Useriu arrived at Dog Grave Lake with frostbite on his toes. The medical team very quickly made all the right decision and a helicopter transport was arranged. That way Tiberiu was able to get his treatment asap, which is vital when it comes to the best possible recovery. He is now at Whitehorse General Hospital and the entire MYAU team keeps their fingers crossed that it all goes as well as possible under these circumstances. I would like to add that Tiberiu is not a newcomer to the cold. He has competed in three editions of the 6633 winter ultra which takes place further north in the Yukon every winter. If I am not mistaken he won their 350 mile race distance 3 times in a row. And conditions up there can be super tough, too. So, I am not sure what went wrong for him but I will try to talk to him tomorrow.
Once we knew Tiberiu is save I drove up to Braeburn with Palle, who is now helping the volunteer crew. Here I got the news that Paul Fosh was on his way out on the back of a ski-doo and also Uwe Paschke could not go any further. Paul had problems with his energy level due to not being able to eat enough and Uwe struggled with the humidity. Just like Palle, Uwe had already finished the 430 mile race in a previous year. Therefore,  he decided that he does not want to go on if he does not feel 100% comfortable.
Now I talked a lot about the athletes who were not able to reach their respective finish lines. However, we of course also have numerous athletes who are doing great. One of them is local runner David Brabec who won the 100 mile distance in an excellent time. Montane athlete Pablo Criado Toca from Spain came 2nd. MYAU veteran Pat Cooke-Rogers from the UK is doing great, too. She was the second athlete to arrive in Braeburn. Although she did say that the fresh snow slowed her down a lot.
Other athletes are now reaching Braeburn and Enrico is getting ready to leave for Ken Lake.
We already know that Norma Bastidas will not continue beyond Dog Grave Lake. She will come out tomorrow.
Now I will try to get some images online and also start filling the results table. Marathoners, I did not forget you! It has just been super busy.