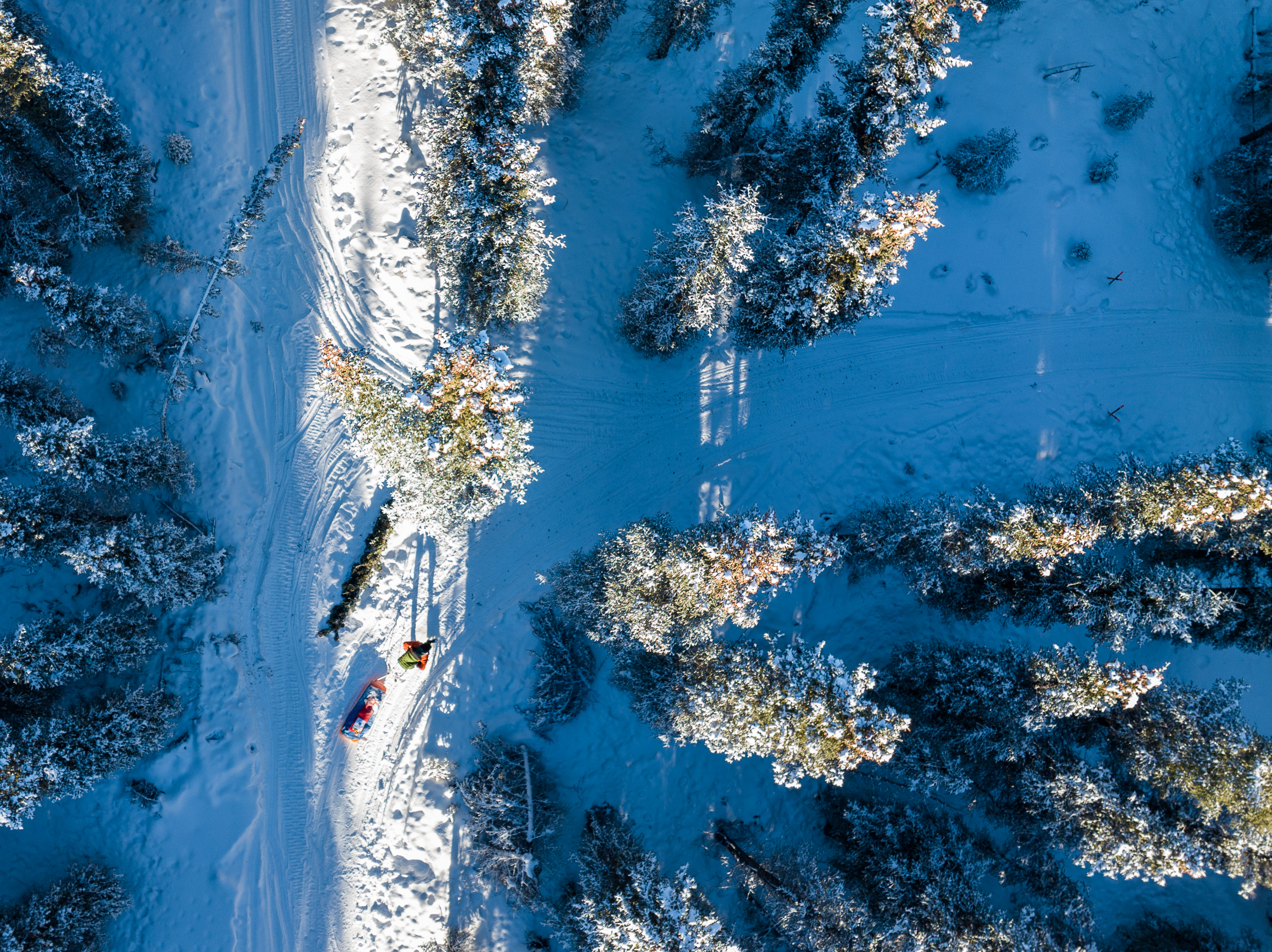 Copyright: MarkKellyPhotography.ca
Day 4 at the Montane Yukon Arctic Ultra 2023 has just started. Time to take a deep breath. It has been absolutely amazing so far. Our marathon runners did really well. Cheng Lun-Chiang from Taiwan won this distance in 4 hours and 58 minutes. Second place went to Christina Bigrigg from Whitehorse. She arrived at Muktuk Adventures after 4 hours and 59 minutes. Greg Newby, also from Whitehorse, reached the finish line after 5 hours and 02 minutes. All other marathon runners also finished! Special mentions go to Eoin Sheridan from Ireland who lives in the Yukon. He did his run in insulated barefoot shoes and was sitting outside after his race in a t-shirt and without shoes and socks after he was done. Not from this world … I was also really impressed by Daniel Tam from Hong Kong. I think it's fair to say that his outfit was casual and when he got to Muktuk I could not see a single drop of sweat. Yes, he was taking it easy but I don't think I have ever seen anything like it. He literally looked as if he had just returned from a day in the office. It was also great to see Jeffrey Mackie-Deernsted from Dawson City arriving. Last time he could not finish his marathon. This year he made it. A big thank you also to Yukoner Jennifer King who joined us once again this year. Congratulations to all and we hope to see you again next year!
Thank you also to our amazing hosts at Muktuk Adventure – the place for people who love dogs. As always the food was amazing and the support and service could not have been better. Beth, from our volunteer crew said "… this probably was the happiest day in her life". Needless to say she does love dogs 😉. What more can you ask for?!
Two ultra athletes could not go beyond Muktuk. That's Trevor Messent (Canada) and Joel Rennie (Australia). Trevor had gear related problems and Joel unfortunately had stomach problems. All other athletes headed into the first night. With temperatures reaching about – 25 degrees Celsius in some places. Over night Paul Fosh (England) had the bad luck of sustaining a foot injury. He made the right decision and withdrew at our Dog Grave Lake checkpoint. Normally, quite a few athletes run into problems during the first night. Not this time. A large number of them took a long break during the night which is what we always recommend. Rather than pushing on all the way to checkpoint no 2. That, a firm trail and – by our standards – less extreme temperatures have meant that all of the remaining participants eventually reached the 100 mile finish line and checkpoint at Braeburn Lodge.
Chad Barber (Canada) won the 100 miler. He pushed extremely hard and was totally exhausted when he arrived. Guillaume Grima from France, who is currently working in the Yukon, came 2nd. He also demonstrated great determination and speed. All smiles it looked like he could have continued right on. Rank 3 overall and 1st woman went to Rebecca Ferry. Normally in her sports career Rebecca climbs 8,000 m peaks like Everest. Maybe she now has also discovered her love for winter ultras!
Unfortunately, Arnie Owsley (USA) who finished the very first MYAU 20 years ago, this time could not make it to Braeburn. He sustained a knee injury. All others were able to celebrate, including 73 year old Dave Colley (Canada). Congratulations to all of you.
Currently leading the 300 mile race is Jacob Myers (USA), followed by German Dirk Heller. Dirk Groth (Australia), Elise Zender (Germany) and Josh Tebeau (USA) are not too far behind.
All remaining 430 mile athletes are now resting in Braeburn or are on their to the next checkpoints. Way up ahead is local hero Jessie Gladish on her fatbike. She is having a great time, resting now in Carmacks and planning on heading out again around 4 am. Tommy Chen from Taiwan, who is a runner, is currently 2nd overall our race to Dawson. He should soon reach our Mandanna Lake checkpoint. The crew there is ready for him and all others who will arrive there during the next couple of days.
We have started to fill our results table that shows the in and out times of each checkpoint. But there is always a bit of a delay. If you want live updates of where our athletes are please check out the tracking page powered by Trackleaders.com. There now are first images taken by our race photographer Mark Kelly in our gallery. More will follow. Please note that we are also very active with making post in our facebook group and on our Instagram page.