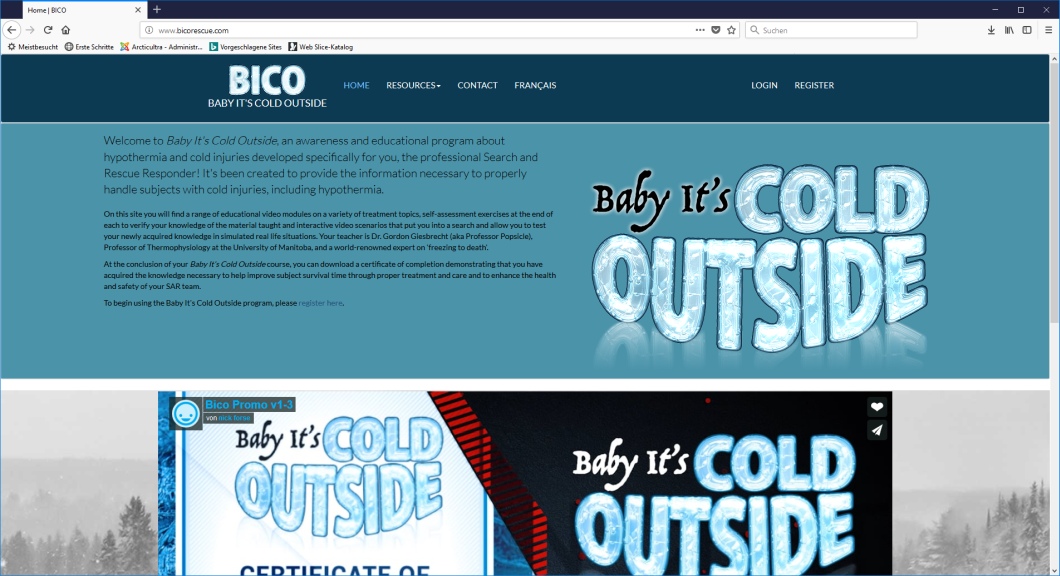 "Baby it's cold outside" (BICO) is an online awareness and educational program about hypothermia and cold injuries developed for professional Search & Rescue responders.
This program is so informative and important that I decided that all future MYAU participant need to do it as part of their preparation.
Even though athletes are not the primary target group of this training, there is a lot to be learned. It will help MYAU athletes better understand some of the things that will happen to their bodies out there in the cold. And of course there always is the possibility that an athlete becomes a first responder when encountering another athlete in trouble on the trail. If the trouble is cold related, this training will help in taking the right steps.
BICO has got several advantages which make it great for athletes:
It's an online program and thus available for anyone with internet
It's free of charge
It deals with all relevant cold weather issues and rescue scenarios in an easily understandable way
It's divided up in several chapters and does not all have to be done at once
It's just the right amount of information
At the end of it you get a certificate and thus can proof that you did the training
You can repeat that training as much as you want
So, any MYAU participant is asked to go to bicorescue.com to register and do the program. Upon completion please either email me the certificate to info@thegreatoutdoors.de or print it out and take it with you to the Yukon to hand in when we deal with any paperwork pre-race.
I do suggest you don't do the training too soon or that you repeat it a week or two before the races. That way your memory of the program is still fresh when you are at the start line in Whitehorse.