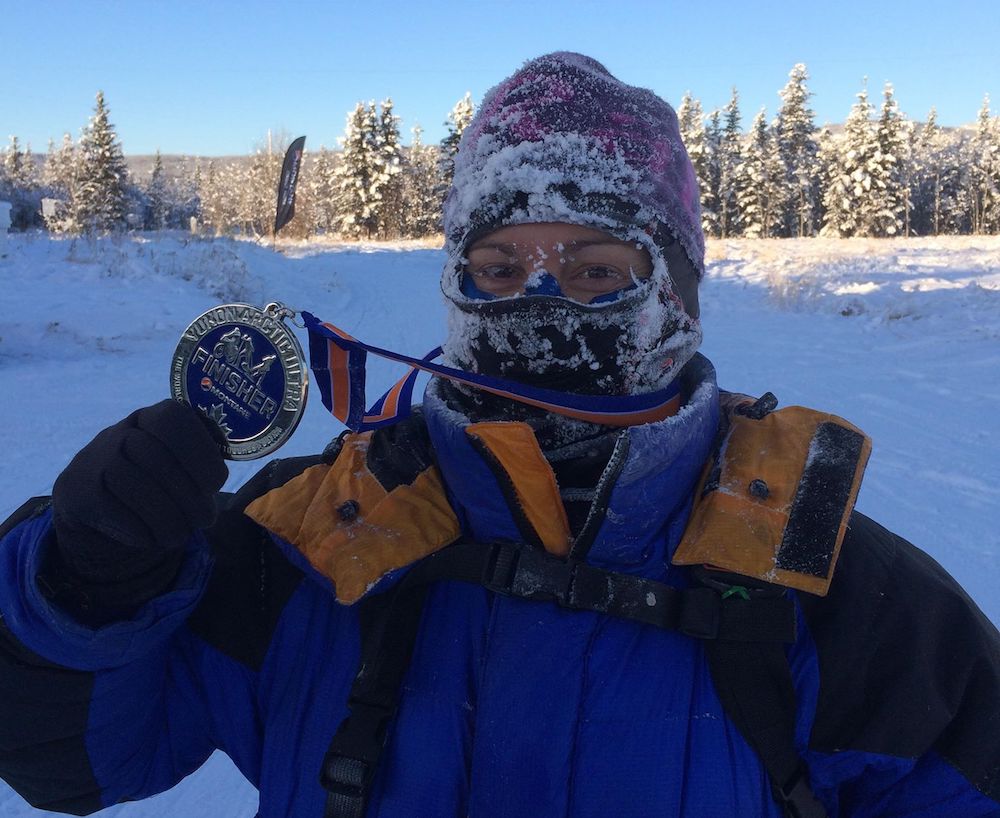 Back from Braeburn Lodge to a quick rest and some updates at race Headquarter.
Michelle Smith finished the 100 mile race today to rank 4th overall and 1st in the women's category. The interesting thing is that when she walked in and had a meal she looked like she had just done a couple of hours running in normal cold. Incredible.
Michael Wardas decided to call it a day just a few km south of the 100 mile finish. He had frost nip on one finger and found it impossible to keep his hands warm. So, he made the right decision and Spencer brought him to Braeburn on his ski-doo. I also saw Roberto Zanda come into Braeburn. He is fine. He actually took a long rest out there with Michael last night, both of the trying to stay warm. Roberto has no fr
ostbite but he owes it to Michelle Smith that he is still in the race. Michelle had more gloves than she needed and Roberto seems to not have had enough. So, Michelle gave a pair of gloves to him. He will get a time penalty for it but can continue the race. Frode Lein will also get a time penalty for disrespecting a race volunteer. As we all know and appreciate, this and other races sometimes can be stressful but I hope everyone agrees with me that volunteers should always be treated with respect. And athletes have been briefed on this specifically before the race. I talked to Frode and he apologised. So, that is great and I am sure from now on it will be just fine.
All remaining 300 milers are on their way to Ken Lake. That is Jovica, Jethro de Decker, Frode Lein, Asbjorn Bruun, Ilona Gyapay and Roberto Zanda.  It is another remote checkpoint. Glenn and Spencer checked on all of them this afternoon and they were fine. 
Not sure if "warming up" is the right expression when it still is around – 30 degrees Celsius during the day but hopefully it helps and they all continue to be able to deal with it.