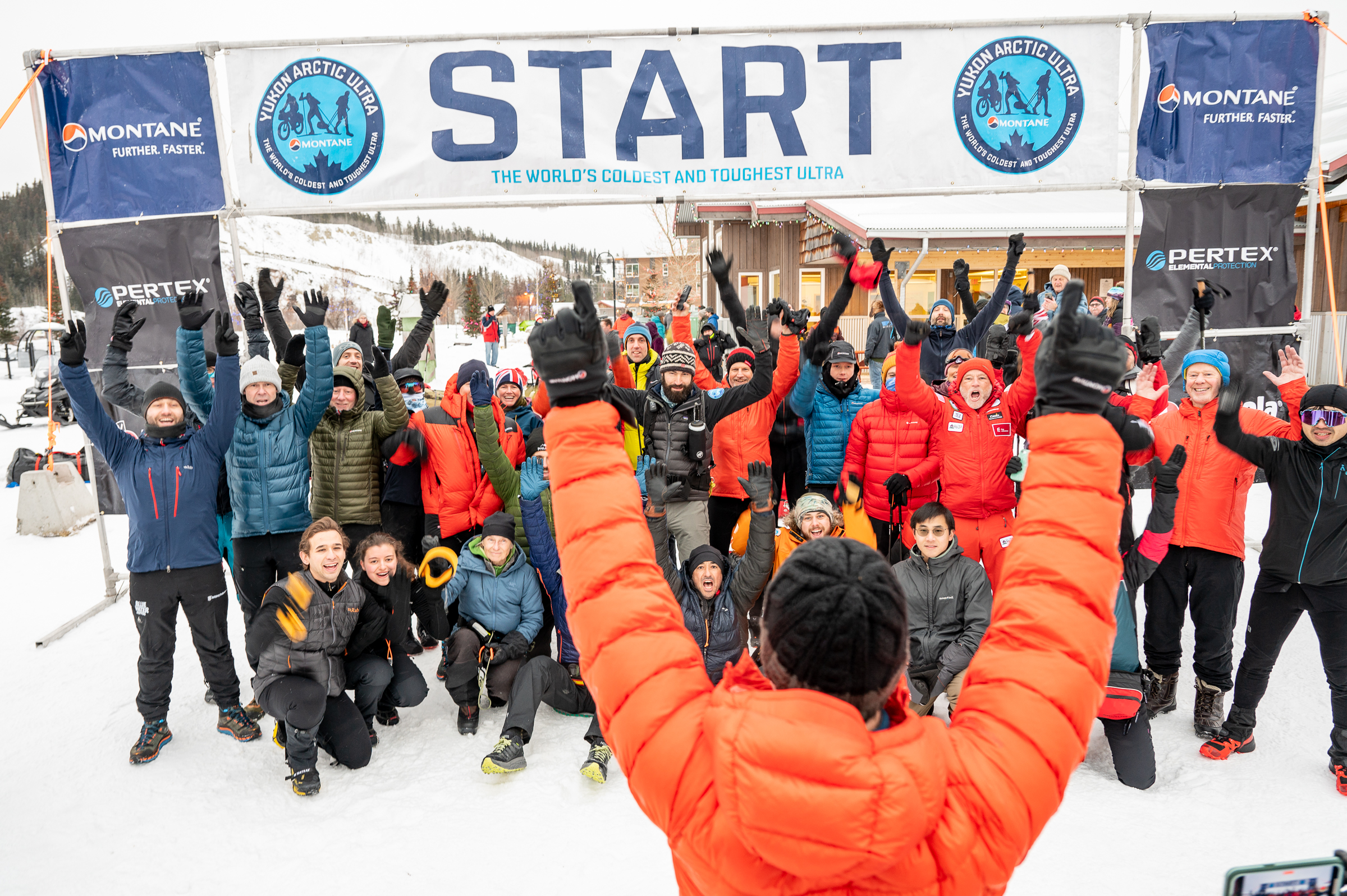 Copyright: MarkKellyPhotography.ca
The Montane Yukon Arctic Ultra 2023 started at 10:31 at Shipyard's – in Whitehorse yesterday, February 4th. 48 athletes from 13 different countries were really eager to finally head out into the beautiful winter wilderness of the Yukon Territory. Temperatures have been kind to us, ranging from about -10 to – 20 degrees Celsius so far. There was a bit of overflow in some sections but overall the trail is in excellent shape, thanks to the Canadian Rangers, our crew member Gary Rusnak and of course the cooler temperatures. So, no surprise that the bikers had a great day and Jessie Gladish was the first to arrive at both Muktuk Adventures and Dog Grave Lake. For quite a while 100 mile athlete Guillaume Grima was really close to Jessie but eventually she was able to gain ground.
It was also very icy which made many athletes get out their Kahtoola MICROspikes in order not to lose traction. So, thankfully nobody hurt themselves going over the frozen Yukon and Takhini Rivers. The marathoners had a great time and their results will go online soon.
Two athletes are not in the race anymore. That's Joel Rennie from Australia who had stomach issues all day. Joel is in Whitehorse now and may join us again as unranked further north. The other participant who had to drop out is Canadian Trevor Messent. Trevor is fine and back in Whitehorse, too. Everybody else is still going. We got ZERO "help" messages over night. Which is great (and very unusual)! Many athletes rested out on the trail on their way to Dog Grave Lake, our second checkpoint. They did not push too hard to try and reach the next checkpoint in one go. Looks like that they all did really well, making that decision.
We know there are a couple of SPOTs not showing updates. That's why we do not only rely on technology but also have a great team of snowmobile guides who are starting to get ready for our daily checks out on the trail.