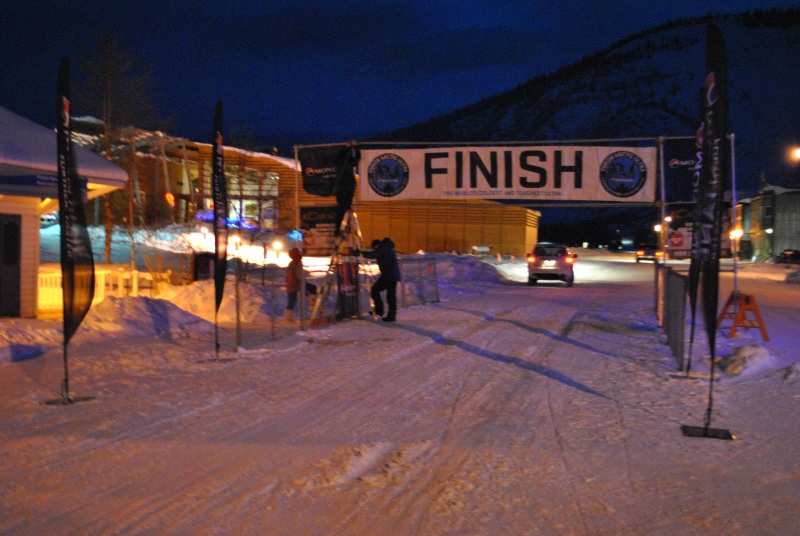 The Montane Yukon Arctic Ultra 2017 is history. Our 14th edition of the world's coldest and toughest ultra. It was a cold one indeed. Although the major challenge this time was the humidity. We have had more extreme temperatures in the past but lower levels of humidity. All that moisture in the air meant that everybody felt the – 35 degrees Celsius as if it were – 45. It became really tough to keep dry and warm hands and upper body. As a result more athletes than normal had problems with frostbite. It's a mean one! Participants may otherwise feel still very good but even "a bit" of frostbite can quickly become very dangerous. So, those who were faced with it had to withdraw.
But I am getting ahead of myself. Day 1 saw a great and fast marathon, even though the first half of the trail was moved from the flat Yukon River to a hilly land trail. Nonetheless, almost all runners and bikers arrived at our Marathon finish, Rivendell Farm, in great spirits. Local Runner Brendan Morphet won in an excellent time of 3:43. He was followed by Kevin Embacher from Whitehorse and Corey Nislow who calls Vancouver his home. Overall rank #4 went to local runner Kristin Daniel who won the women's category. A big thank you to the large contingent of Yukon marathoners but of course also those who came from further away. I hope you all enjoyed the experience! As promised, we donated 1 CAD per kilometer run in the marathon to Little Footprints. Big Steps. That was a total of CAD 1,100 which Morgan Wienberg and her team can now use for one of their many projects!
Some athletes were less lucky and reached Rivendell Farm already knowing they will not continue. For those still in the race, the next stage was a tough one. It always is but as described above, the humid air made it even worse. Consequently, a rather large number of participants had to call it a day. Not only frostbite but also sore knees, pulled muscles and stomach issues were amongst the reason for DNFs. In the meantime, German fatbiker Bernhard Hasenbalg took the lead and runner Jovica Spajic from Serbia was chasing after him. While race veteran Bernhard did say on one occasion that "he had never felt this cold before", he just kept on riding his bike. Jovica who is an internationally very successful trail runner and even experienced with the cold, got himself into trouble. Upon his arrival in Ken Lake the checkpoint team diagnosed bad frostbite on his nose and some frostbite on fingers. Unfortunately, that was the end of his adventure. He will be fine because he did accept our ruling but it is a warning to all the competitive athletes. Even the strongest and most experienced can get into trouble!
England ruled our 100 mile race this year. All finishers are English and they may not have broken any records but they enjoyed the Yukon wilderness and arrived in Braeburn still in good shape. Peter Thornton and David Hartley who started as Team Fleet Footed arrived after 51:40 and won. 3 hours and 5 minutes later Tristan Brown and Alistair Cole took rank 3. The "last" to arrive were Robert Jeffery and Scott Carey with a time of 60:30.
Some athletes still had to scratch before reaching Carmacks but the rate at which this happened by then had slowed down. Steve Hayes from Wales won the 300 miles after 168:50, followed by German Stefan Zahlten (177:00) and Laura Trentani (180:45). Laura is the first Italian woman to reach the 300 mile finish. Borja Fernandez from Spain pushed hard for the last 60 plus miles and came to Pelly in 4th place. Half way, in Pelly Farm, he only stayed 50 minutes to make sure he makes the 8 day cut-off. And he did it easily. Must have been the magic lasagna.
Our 200 mile race premier started in Pelly Crossing on Feb. 9th. Mal Smith tried it on bike and Alfredo Dimeo on foot. Both are from England. Unfortunately, they did not get beyond Pelly Farm. So, we have no 200 mile finishers, yet. Thus, should we offer the distance again in two year's time, there will still be the chance to be the first athlete to complete this MYAU distance.
From the remaining 430 milers only James Binks from England could not get past Pelly Farm. His achilles were becoming more and more painful and he made the right decision to not go further. On the previous day fresh snow had made the trails soft and slowed every one down quite a bit. They all made it to Dawson, though. Some very sunny days almost made the – 35 degree Celsius at the start seem like distant memory. Even though Bernhard really took his time and was also held for 4 hours at one point, he arrived in Dawson City way ahead of everybody else after 171:05. 2nd on bike came Pat Cooke-Rogers from England for whom this is the second successful Dawson City finish after 2015. 2nd overall and 1st in the foot category was Enrico – the machine – Ghidoni from Italy (226:10). 2nd on foot was Simon Reed from England (229:10) and 3rd Daniel Benhammou from the USA (249:12). The first and only woman on foot was Canadian Jessie Thomson-Gladish who took 278:34. Jon Gupta and Tom Sutherland from team Montane were the first team on foot to ever reach the 430 mile finish line. It took them, 276:05. Needless to say that all other 430 mile finisher did an amazing job, too!
I want to thank all athletes who came to Whitehorse to test their limits. Thank you also to our sponsors, crew members and other supporters of the Montane Yukon Arctic Ultra! It was a real pleasure and I am looking forward to our 15th edition in 2018 when the distances to choose from are marathon, 100 and 300 miles.