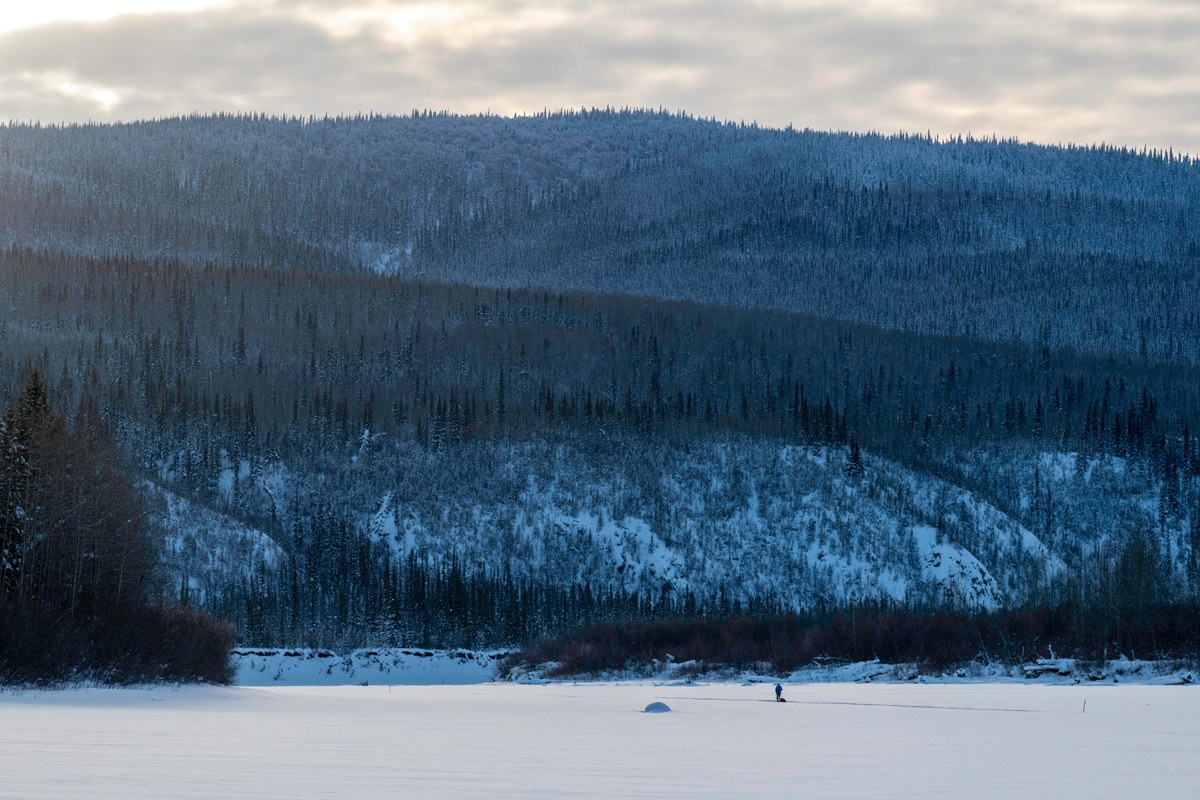 Another Montane Yukon Arctic Ultra is in the history books.
I would like to thank all athletes who were with us at the Shipyard's Park start line January 30th. Congratulations to all finishers in the marathon, 100 and 300 mile races.
I also want to congratulate all athletes who managed to stay safe out there. Not all of you may have reached the finish line but as I always say up front, "what matters most is your health". You can have another go at the MYAU and any other ultra you will attempt in future years. However, in order to do so you need to take good care of yourself. Sometimes that means accepting that another try will be necessary. In doing so, you help reduce risk for the crew and I am sure all your loved ones appreciate you making the right decision, too.
If you did sustain an injury I wish you a swift recovery. As always, there have been a variety of problems for some of the participants – from bad blisters, to knee and shoulder problems, to frostbite and simply exhaustion. I will make a separate post with some thoughts of mine and lessons learned.
Leading up to the MYAU 2020 we have seen quite the cold spell. I believe one news headline read "Yukon coldest place on earth …". The cold spell did a good job freezing rivers and lakes, thus making the trails safer and reducing the amount of overflow. So, I was very surprised when 2 days before the start reports came in that only about 5 km from the start line there is a massive area of overflow. Some of it hip deep. Thanks to an extra effort by crew member Gary Rusnak we found a safe way around it.
Because of the slightly warmer temperatures, fresh snow and wind, the trail conditions in general have been challenging. On day 1 the crew encountered new overflow north of Muktuk Adventures which made us shorten the marathon. Some ultra-distance athletes had to go through and others, who came later, were lucky as, again, the crew worked their way around it.
During the first night the weather forecast was off by about 10 degrees Celsius, i.e. it was colder than expected and the coldest it got was around the – 40 degrees Celsius in the second night. Combined with challenging trails and high humidity it caused more cold weather injuries than we would normally see in these temps. The good news is that no athletes had to stay over night in hospital for treatment. Since they all reacted in time, the crew doing a great job managing initial treatment and transportation and thanks to state of the art treatment in Whithorse Hospital, all should fully recover. Nonetheless, it is a strong reminder that it does not need extreme temperatures to get in trouble.
Whilst all marathoners and 11 out of 20 athletes in the 100 mile race finished, things worked out differently for the 300 mile distance. From 21 participants only 2 reached Pelly Crossing. Interestingly, those two, Fabian Imfeld from Switzerland and Tiberiu Useriu from Romania, both had to pull out last year due to frostbite. With Fabian it had been only minor. Tibi's case was more serious. They both improved their game and had no issues at all this year. I am particularly happy for Tibi to have made the right decision on a couple of occasions when he rested rather than trying to overtake Fabian. Tibi is very competitive and I can only imagine how tempting it must have been to try. But he listened to his body and stayed out of trouble.
Time to say thank you to the crew:
Thank you Gary (Rusnak), Gary (Vantell), Jason, Jim, Warren, Joe, Robert (Siefke), Glenn and Spencer for doing such a wonderful job out on the trail.
Thank you Anya, Jen, Timothy, Charlotte, Gavin, Sarah and Trish from the medical team! You worked incredibly hard and made sure everyone stayed safe.
Thank you Julie, Callum, Roger, Peter, Margo , Pamela, Eric, Bernard, Maeva, Diana, Berenike, Ross and Christina for taking such good care of everyone at the checkpoints.
Thank you to all the checkpoints: Muktuk Adventures (Manuela & team), Dog Grave Lake (Stewart & crew), Braeburn Lodge (Steve, Lee & team), Ken Lake (Bernard & crew), Carmacks Recreation Centre (Ray & team), McCabe Creek (Kruse family), Pelly Crossing (Selkirk First Nations) and Pelly Farm (Sue & Dale).
Thank you to Jo from Race HQ – and Julie who also joined in HQ work for a few days.
Thank you to Stewart, Jo & team and Shelley, Jessie & team for putting on your survival/training courses.
A special thank you also to Diane Patrick for all your help leading up to the 2020 edition! You have not been able to be with us this time but without your support the race would not have been possible.
Thanky you Mark Kelly and Joe Bishop for the perfect photos and thanky you David Brabec for your very nice videos.
A big thank you to our title sponsor Montane, main sponsors Pertex, Allied Feather & Down and Tourism Yukon. Also, thank you to Primus and the many local sponsors and partners of the event: Yukon Quest, Coast High Country Inn, Muktuk Adventures, Atlin Mountain Coffee Roasters, Wilderness Fishing Yukon, Fraserway RV, Total North, Yukon Yamaha, Coast Mountain Sports and Driving Force.
Last but not least, thank you Canadian Rangers for the hard work putting in the trail!
Over the next 10 days or so I will prepare the website and forms for our 2021 edition. Hopefully, by March 1st we will be able to accept entries. As most of you will know, next year we will have the 430 mile distance again! So, it will be marathon, 100, 300 and 430 miles you can chose from.