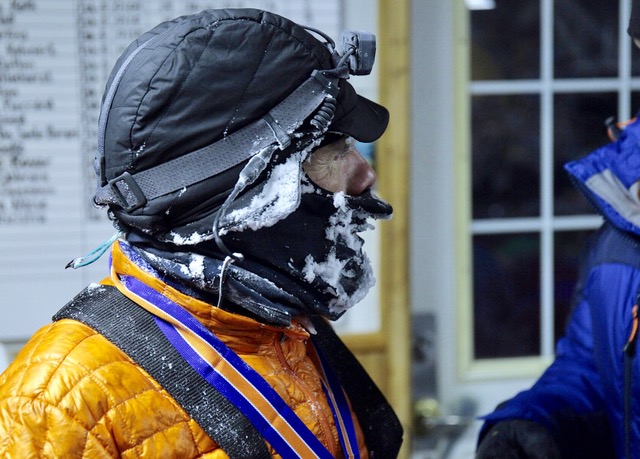 Emanuele Gallo from Italy arrived in Braeburn February 3rd at 22:11 which makes him the overall winner of this year's 100 mile race. The entire crew is really happy for him. Right from the beginning he has shown the characteristics that are so important in the Yukon. He is obviously a strong athlete but he was also well prepared and always in a good mood. So, it's well deserved.
Other athletes have also shown enormous skills and mental strength. Peter Mild from Sweden arrived February 4th at 00:16 to rank second overall in the 100 miles. Tomas Jelinek from Germany reached Braeburn Lodge at 02:19 placing 3rd. Congratulations to all of you!
None of the 300 mile athletes have left Braeburn, yet. Jovica from Serbia was the first to arrive. When removing the tape over his nose the top layer of skin came off. One of the dangers, when using tape on facial skin. Parts of his nose that were not covered looked like they may be frostbitten. Nothing major but possibly bad enough to not let him continue. We told him to get a good sleep and when he gets up we will have a look at it again to decide. Next 300 miler to arrive was Nikolaj Pedersen from Denmark. He has got frostbite on the tip of some toes. Again, not serious but definitely bad enough for him to have to stop his adventure. He is now resting and will get a transfer back this morning.
Fortunately, we also have several 300 milers who were have no frostbite or other problems. They certainly are suffering by now but are all having a rest and can continue. Ilona Gyapay and Asbjorn Bruun who I should mention are doing the race on xc-ski, which is difficult to begin with and in these temperatures absolutely amazing. Normally xc-skiers are the first to get frostbite on toes. Also at the CP and fine are Frode Lein and Jethro de Decker.
That means still out on the trail are 300 milers Roberto Zanda and Michael Wardas. Their SPOTs are not working. That's why our guides will have an early start to check on them. Michelle Smith is on the trail, too. However, her SPOT is sending and she signalled that she is taking a break.