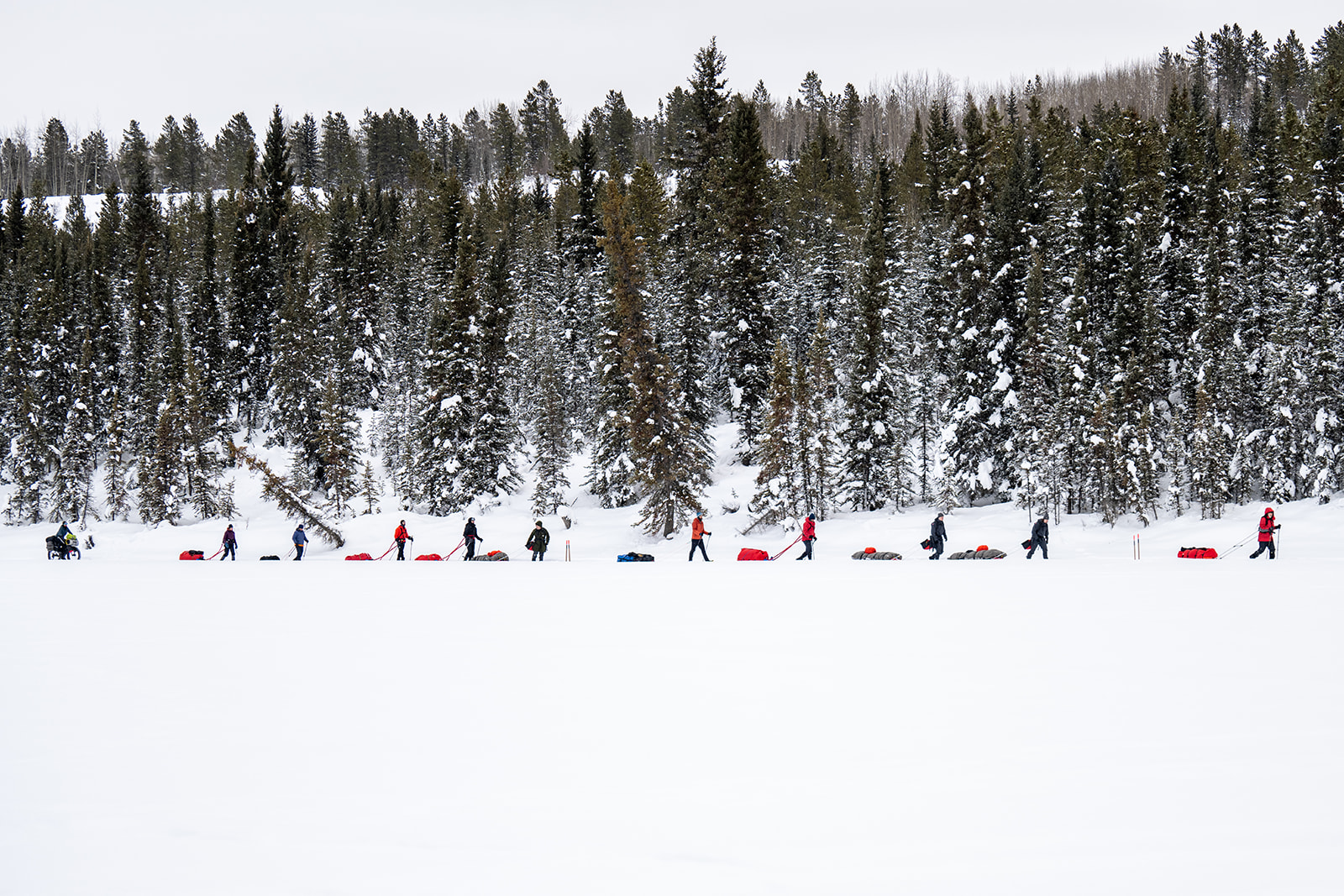 Copyright: MarkKellyPhotography.ca
The training course is over and almost all athletes are here now. Unfortunately, Luc Atgé from France who had signed up for the 300 miles, will not be with us. He could not come because of Covid-19. He is disappointed of course but the good new is that Luc is feeling better already and now is looking forward to the Montane Lapland Arctic Ultra in March and coming back to the Yukon in 2023.
We also had two more volunteers from the UK who could not make it because of the pandemic. Just as is the case with Luc, we hope to welcome them and all others in the Yukon next winter.
While the temperatures during the training course were almost mild, it cooled down quite a bit last night and we all woke up to about – 36 degrees in downtown Whitehorse. Now, at 00:23 AM on February 2nd there is a quite a bit of snow coming down and the wind is blowing hard. The forecast for the race keeps changing. It looks like it could go down to – 30 in some parts of the trail and we will likely get more snow. That's good news and bad news. These temperatures are okay for the race but a lot of fresh snow and wind make it very tough to keep up a good speed.
I did some early gear checks yesterday morning and other athletes used the  night before for a bit of stove lighting and other training in the Gold Rush Inn parking lot. It was a good reminder that at – 35 things start to get tough.
All rental gear is distributed, most SPOTs (satellite trackers) have been handed out and some more updates to athletes were sent out by email.
Our own crew and the Canadian Rangers have been very busy setting up the remote checkpoints and breaking and marking trails. Due to the record snowfalls the Yukon has had, on rivers and lakes there is an enormous amount of overflow. The trails are safe, especially in the colder temperatures. But it is very dangerous to step off the trail. And the workload to get the trail was massive. That's why I want to send a BIG thank you to all who have been involved.
The volunteer crew, currently based in Whitehorse, has been busy, too. Julie Pritchard, Callum Jolliffe and Cameron McLeod have been dealing with paperwork, preparing material for the race and helping the athletes to get all they need. Thank you Diane Patrick for all the prep work back home! Now we are just waiting for Anya Svet and our crew will be complete.
It's also great that we have some new crew members and together we are all excited to soon head North!
Those of you who want to follow us have got several options:
There will be very frequent news in our facebook group.
We will also try to put as many photos up on our Instagram page and of course in the gallery here on this website.
Another source for news is of course this page on our website.
The SPOT tracking page – powered by Trackleaders.com – is embedded on our landing page.
Last but not least, there is a detailed results table which we will try to update as often as possible.
Some impression from the training course – copyright MarkKellyPhotography.ca: